Starting in
D ::
Edolo -
Aprica
(Sforzato Wine Stage)
profile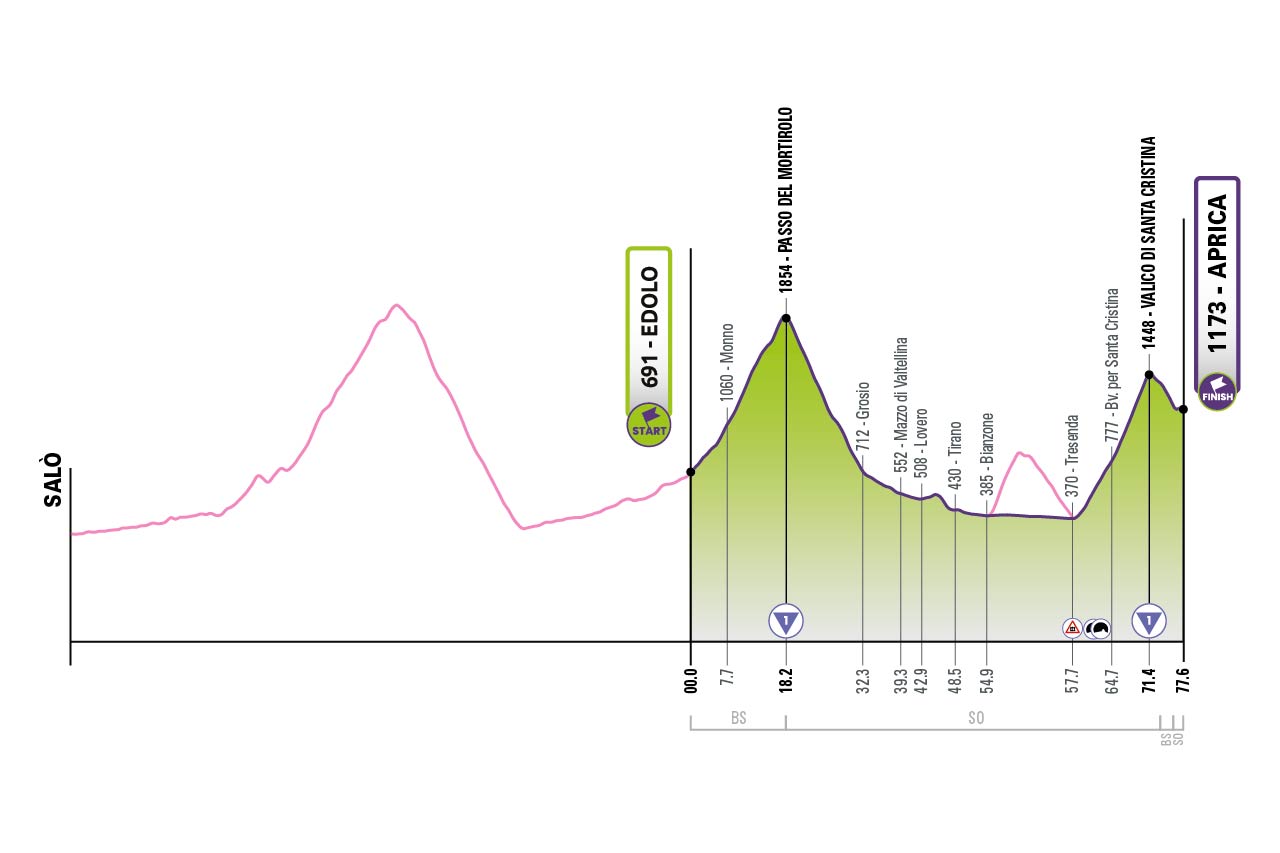 map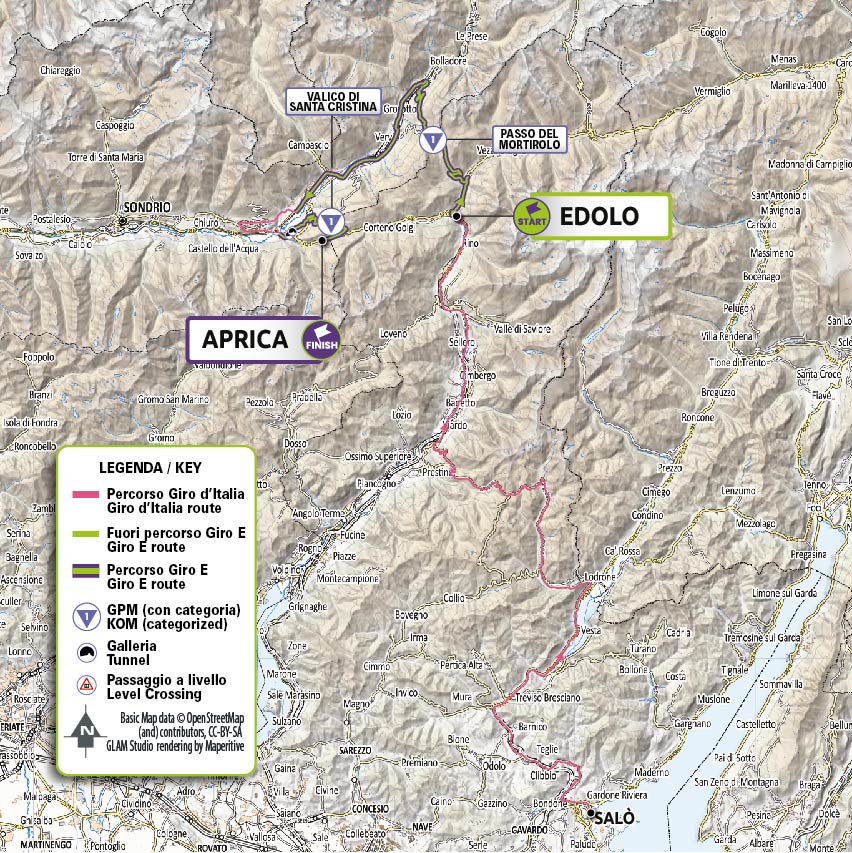 climb detail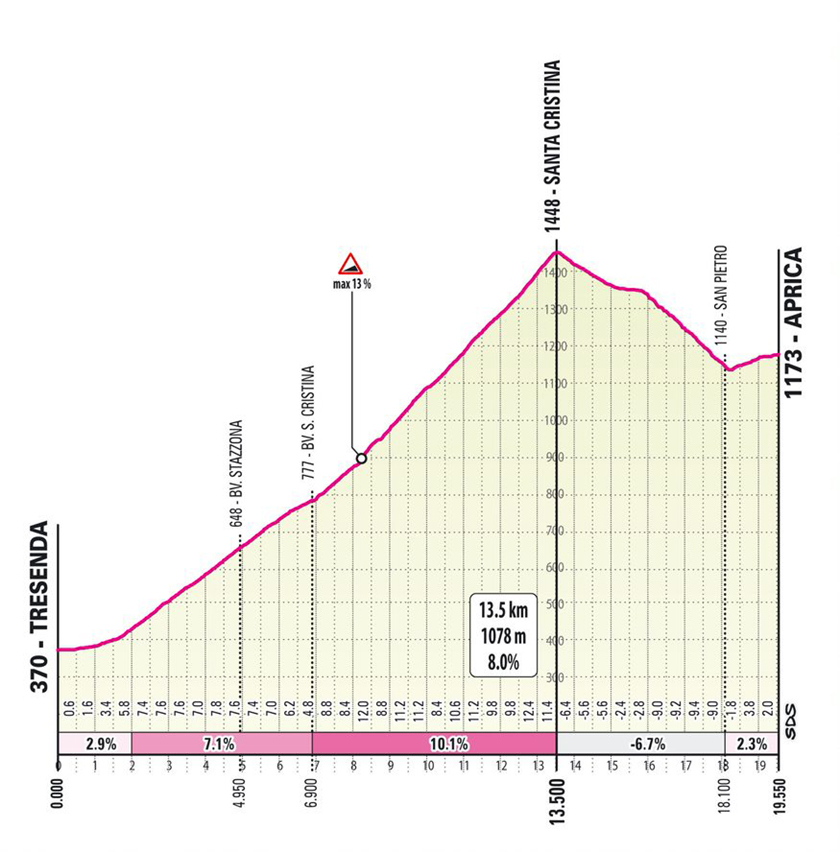 itinerary timetable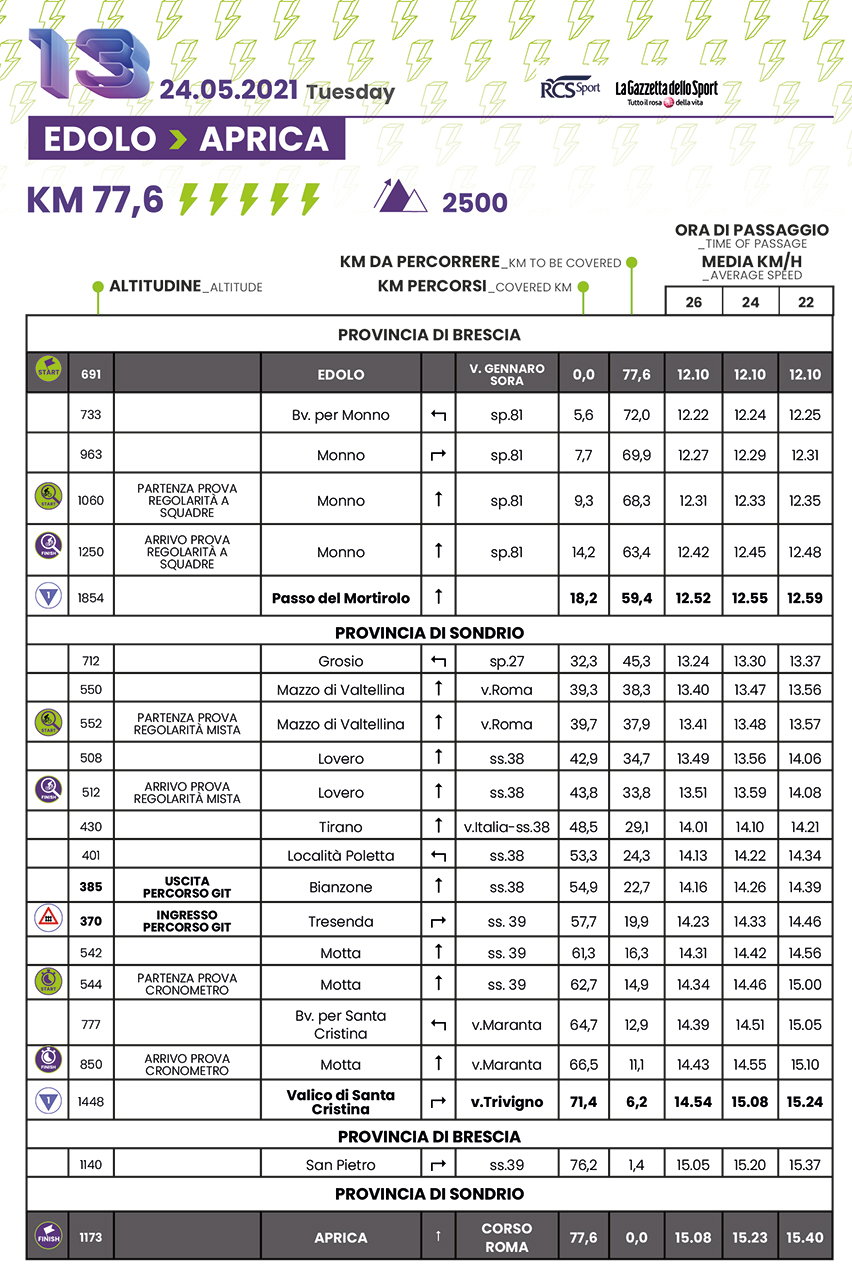 tourist info
EDOLO
Touristic information
Edolo, one of the main centers of the Camonica Valley, is located 700 meters above sea level, at the northern end of the province of Brescia, borded to the provinces of Sondrio and Trento. It is a joint between different territories: the Aprica Pass and Valtellina, which can be reached in about fifteen kilometers, while Ponte di Legno and Tonale are a little further away and represent the "door" to Trentino Alto Adige. Edolo, situated at the confluence of Oglio and Ogliolo river, is still today a crossroads of ancient routes that lead to some famous alpine passes: Tonale, Mortirolo and Gavia Pass.
Nestled in a crown of mountains, the village benefits from the alpine landscape, therefore suitable for tourism. Thanks to its geographical position and moderate altitude, Edolo enjoys a pleasant climate, with cool summers and mild winters. Moreover, thanks to the shape of the land, you can discover an extensive network of paths, mule tracks and hiking trails for all tastes; there are exciting cycling, road or mountain-bike trails. Much of the surrounding area is safeguarded by two large protected natural parks, the establishment of natural parks: the Adamello Park and the Stelvio National Park.
Edolo also hosts the university campus of the University of Milan's branch of the Faculty of Agriculture, with a degree course in exploitation of the rural heritage and the mountain area protection.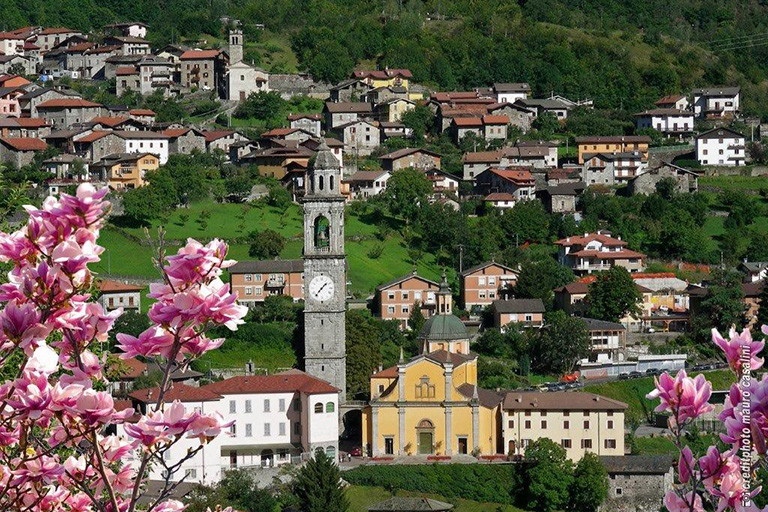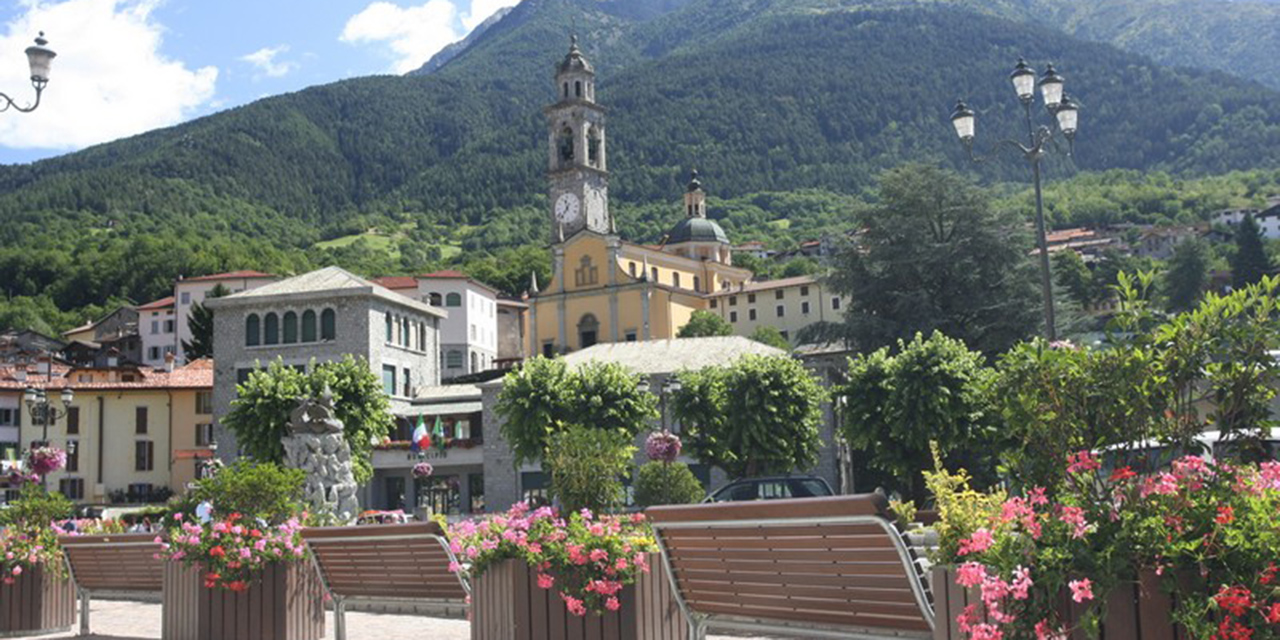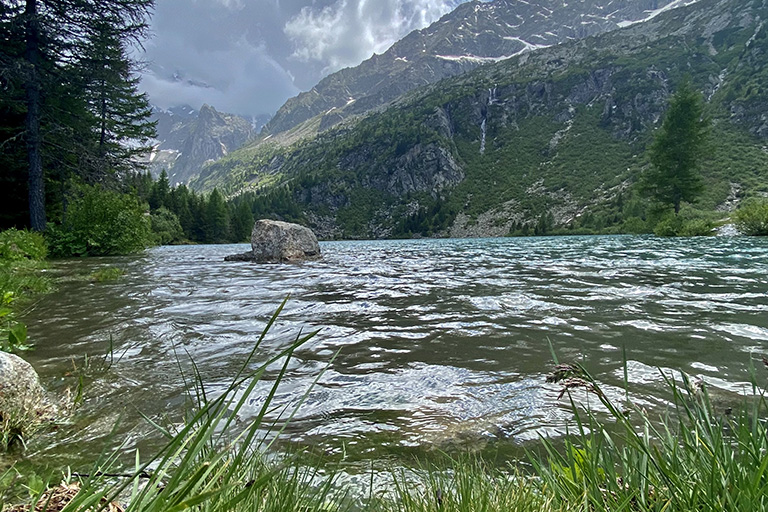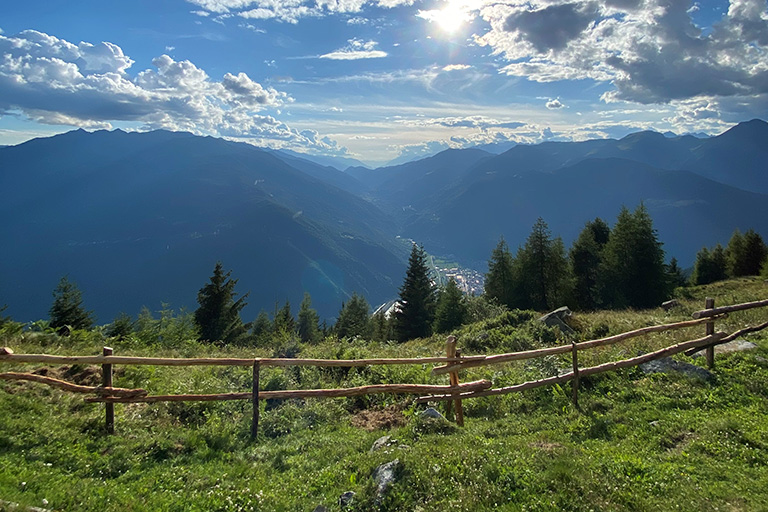 Gastronomy
Many traditional products are part of the local gastronomy. The mountain cuisine here is distinguished by the use of organic raw materials and zero Km such as cured meats, cheese and butter. Homemade jams and cakes prepared by hands that guard "old knowledge and flavors". Wheat flour brings us to the typical dish "polenta" usually accompanied by "salmì" (venison) and "strinù" (grilled salami). Other flours enrich the culinary offer, such as chestnuts and rye, cultivated and ground in neighboring villages and the protagonist of numerous projects. For some years now you can join events concerning the rye bread, the typical donut, that unite the community.
Beverages
It was 1920 when the F.lli Tevini, put for the first time to macerate cold in large wooden vats 15 rare selected herbs of the Adamello group, thus packaging this ancient recipe that is handed down from 4 generations. Over time and manual processing shape the taste and character of this liqueur. Elixir Noreas 100 years old can be enjoyed from aperitif to after dinner, smooth or with ice. The ancient slogan that accompanied the history of this great liqueur reads "Mala digestio, nulla felicitas".
Moreover, thanks to a recent project grown by some friends and their "think local" motivation, was born "Idòl", a white wine, produced through the recovery of resistant vineyards on site. This mountain wine is characterized by a great complexity, aroma and flavor, freshness and great drinkability.
Main Sights
The village retains, in its oldest heart, a noble and evocative aspect, with examples of medieval structures and stately homes, such as "Casa Zuelli", along the historic Cesare Battisti Street.
Even today you can discover prestigious buildings and numerous high-level artifacts, including marble and granite portals, windows, balconies, railings, inferiate and gates made by great skill and mastery.  
There are two main churches in which you can admire numerous frescoes and paintings: the Church of Holy Mary in Childhood and the Church of Saint Giovanni Battista.
As for the parish church, since the ninth century called "the mother of all churches", of great artistic value we point out the main facade in addition to the naves, the three altars and the wooden pulpit.
The sixteenth-century frescoes that house the Church of Saint Giovanni Battista, in the square of the same name, represent an important artistic heritage for the country, signed by the painter Girolamo da Romano known as the Romanino.
In Edolo there are also some small museums: The Battaglione Edolo Museum, dedicated to the history of the alpine (italian soldiers in 1st World War); the Train Museum, a plastic reproduction of the Brescia – Iseo – Edolo railway line; the Muse, on sacred art. It is also possible to visit the inside of the hydroelectric plant owned by Enel and discover the operation of one of the main plants in Europe.
The morphology of the territory of Edolo allowed the birth of several alpine refuges: Rifugio Malga Stain 1832 m., Rifugio Mola 1702 m., Rifugio S. Occhi all'Aviolo 1930 m., Rifugio Garibaldi 2548 m.
It is worth mentioning some paths that cross the town center: Path number 1, Alta Via dell'Adamello; the Valerian Way and the Charlemagne Way, recently retracted footpaths.
Edolo also has his giant red bench, the number 76 within the project "Big Bench", located in the village of Mù, which guarantees a pleasant view of the surrounding landscape.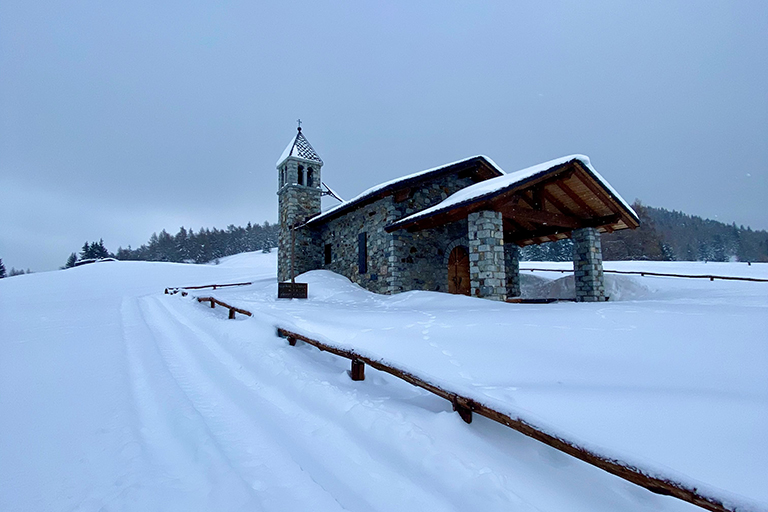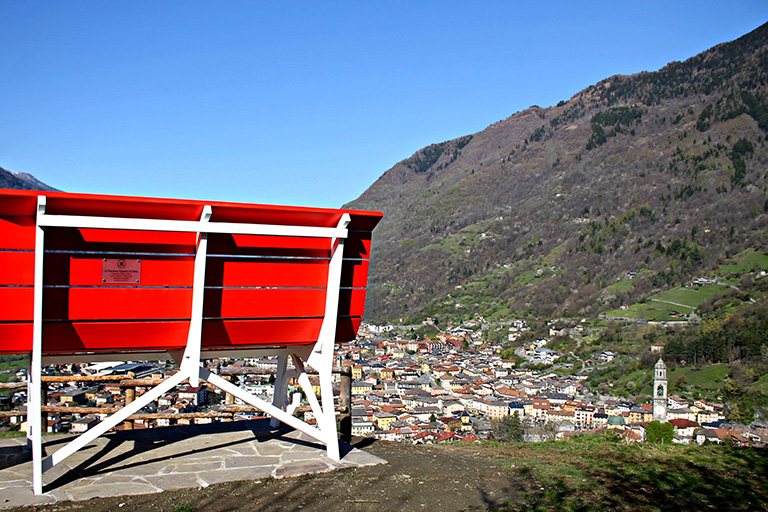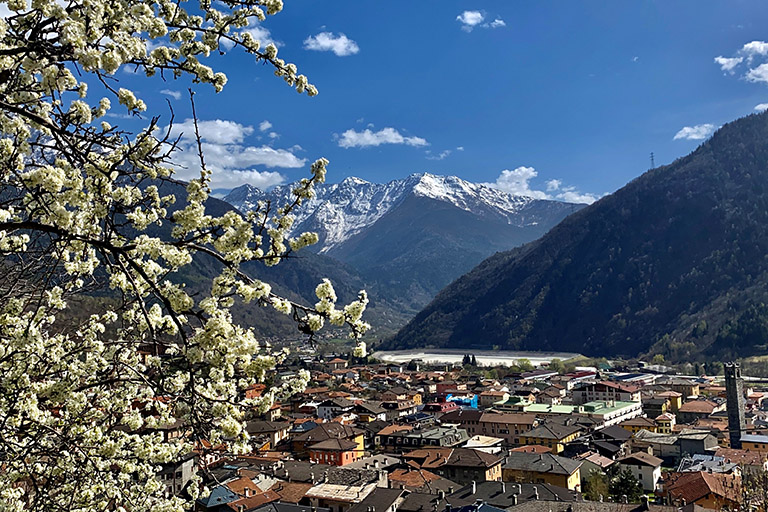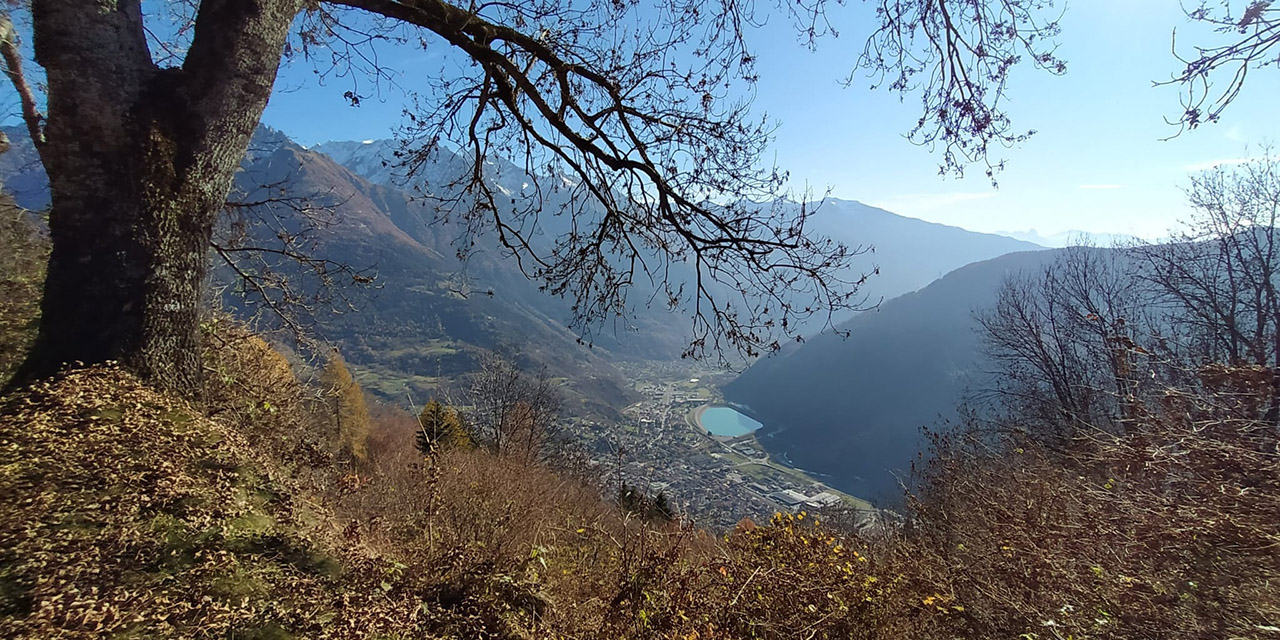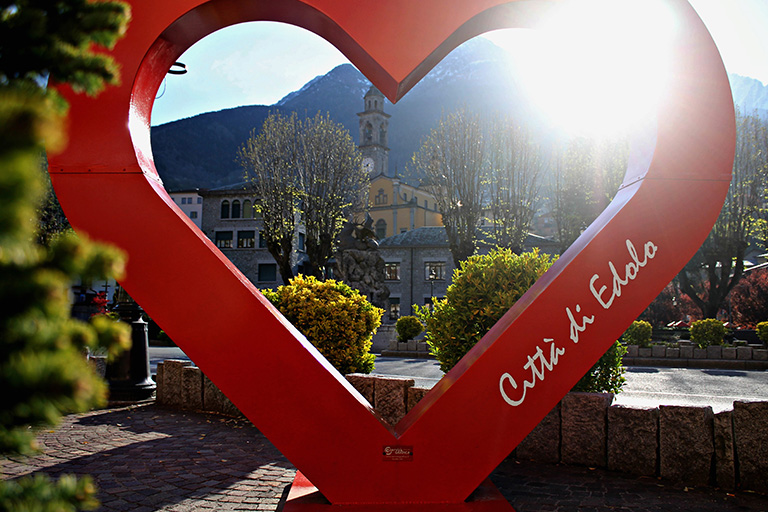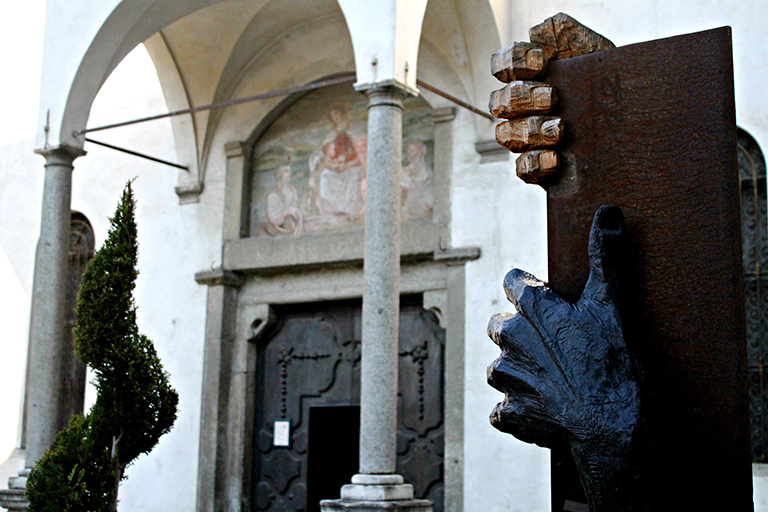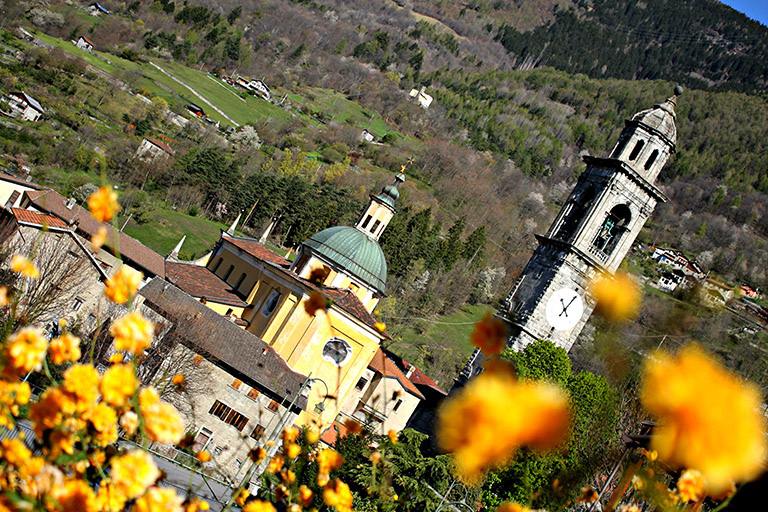 APRICA
Touristic Information
A‌ ‌popular‌ ‌resort‌ ‌in‌ ‌summer‌ ‌and‌ ‌winter,‌ ‌Aprica‌ ‌links‌ ‌Valtellina‌ ‌with‌ ‌Valcamonica‌ ‌in‌ ‌the‌ ‌heart‌ ‌of‌ ‌italian‌ ‌Alps.‌ ‌
The‌ ‌easily‌ ‌accessible,‌ ‌scenic‌ ‌resort‌ ‌has‌ ‌a‌ ‌bounty‌ ‌of‌ ‌activities‌ ‌for‌ ‌families.‌ ‌Aprica‌ ‌really‌ ‌shines‌ ‌in‌ ‌the‌ ‌summer‌ ‌
as‌ ‌it‌ ‌transforms‌ ‌into‌ ‌an‌ ‌outdoor‌ ‌playground,‌ ‌full‌ ‌of‌ ‌cycling‌ ‌and‌ ‌hiking‌ ‌routes.‌ ‌Aprica‌ ‌will‌ ‌be‌ ‌familiar‌ ‌to‌ ‌many‌ ‌
road‌ ‌riders‌ ‌as‌ ‌it‌ ‌often‌ ‌features‌ ‌in‌ ‌game-changing‌ ‌stages‌ ‌of‌ ‌the‌ ‌Giro‌ ‌d'Italia.‌ ‌Hit‌ ‌it‌ ‌up‌ ‌for‌ ‌some‌ ‌rewarding‌ ‌
climbs,‌ ‌including‌ ‌the‌ ‌iconic‌ ‌Mortirolo‌ ‌and‌ ‌Santa‌ ‌Cristina.‌ ‌For‌ ‌off-road‌ ‌riders,‌ ‌there‌ ‌are‌ ‌many‌ ‌mountain‌ ‌bike‌ ‌
routes‌ ‌to‌ ‌explore.‌ ‌Once‌ ‌the‌ ‌snowy‌ ‌season‌ ‌hits,‌ ‌skiers‌ ‌flocks‌ ‌to‌ ‌Aprica‌ ‌and‌ ‌its‌ ‌50km-plus‌ ‌of‌ ‌ski‌ ‌pistes‌ ‌for‌ ‌all‌ ‌
levels‌ ‌and‌ ‌tastes.‌ ‌Ranging‌ ‌from‌ ‌the‌ ‌Pistone‌ ‌on‌ ‌the‌ ‌Magnolta‌ ‌to‌ ‌the‌ ‌child-friendly‌ ‌ones‌ ‌next‌ ‌to‌ ‌the‌ ‌town,‌ ‌
Aprica‌ ‌has‌ ‌it‌ ‌covered.‌ ‌As‌ ‌of‌ ‌the‌ ‌2020/2021‌ ‌season,‌ ‌Aprica‌ ‌lights‌ ‌up‌ ‌the‌ ‌hearts‌ ‌of‌ ‌night‌ ‌skiing‌ ‌fans‌ ‌with‌ ‌the‌ ‌
super‌ ‌panoramic‌ ‌Baradello‌ ‌run,‌ ‌which‌ ‌is‌ ‌now‌ ‌the‌ ‌longest‌ ‌floodlit‌ ‌pist‌ ‌in‌ ‌Europe.‌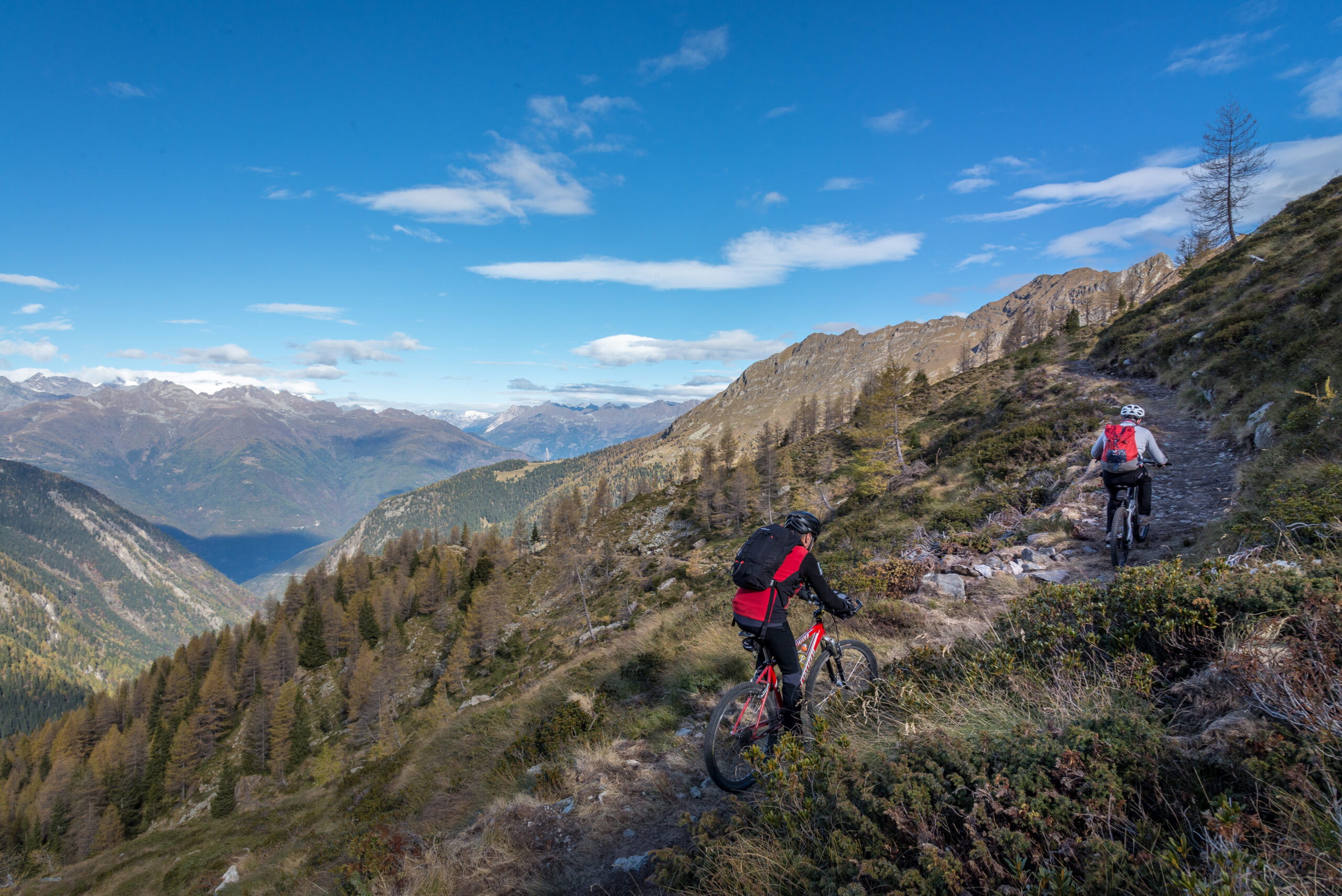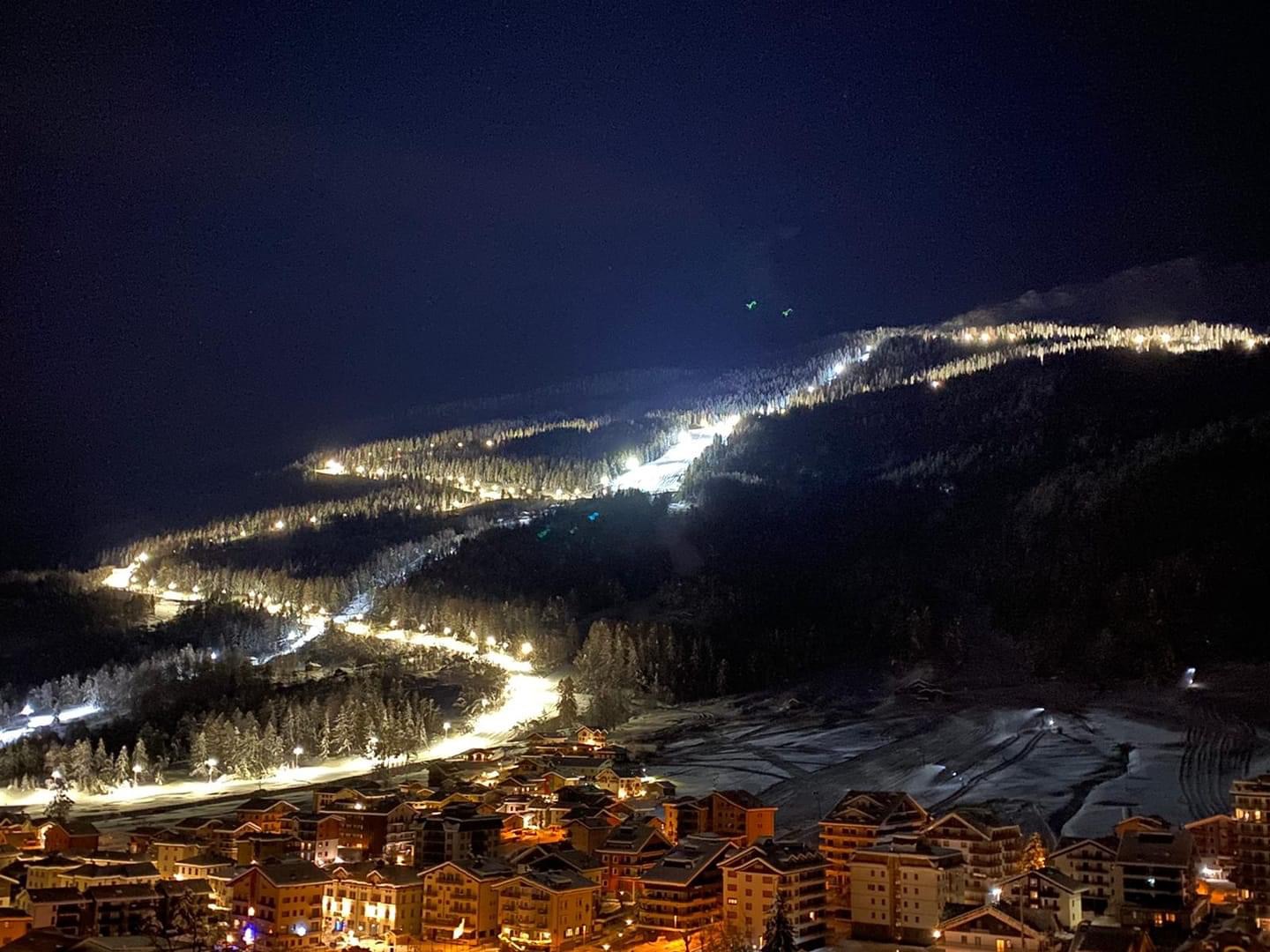 Gastronomy
Valtellina and Aprica are famous for their food excellence. Many of its products are certified as PDO and PGI certified. The local cheeses, wines, bresaola, apples and pizzoccheri are the outcome of this territory: from the valley floor to the icy peaks, it's a neverending succession of terraced vineyards, cultivated fields, apple orchards, forests and alpine pastures. This variety and Valtellina's long-standing agricultural and farming tradition give culinary delights. Valtellina's traditional dishes are the perfect example of how its people have adapted to a difficult territory that offers an incomparable variety of resources. Valtellina is also known worldwide for its pizzoccheri. It's a first course that encloses the authentic taste of Valtellina. Fresh buckwheat pasta, potatoes, cabbage, cheese, and Malga butter are the main ingredients. Sciatt is the fun side of Valtellina's cuisine because of the shape, which gives the name to this dish. These cheese-filled buckwheat fritters are usually served on a bed of salad. These delicious nibbles have the shape of toads, hence the name sciatt ("toad" in Valtellina's dialect). And of course, you can't forget desserts! Aprica's traditional dessert is called panvì, which consists of slices of rye bread toasted in butter and sprinkled with red wine and sugar.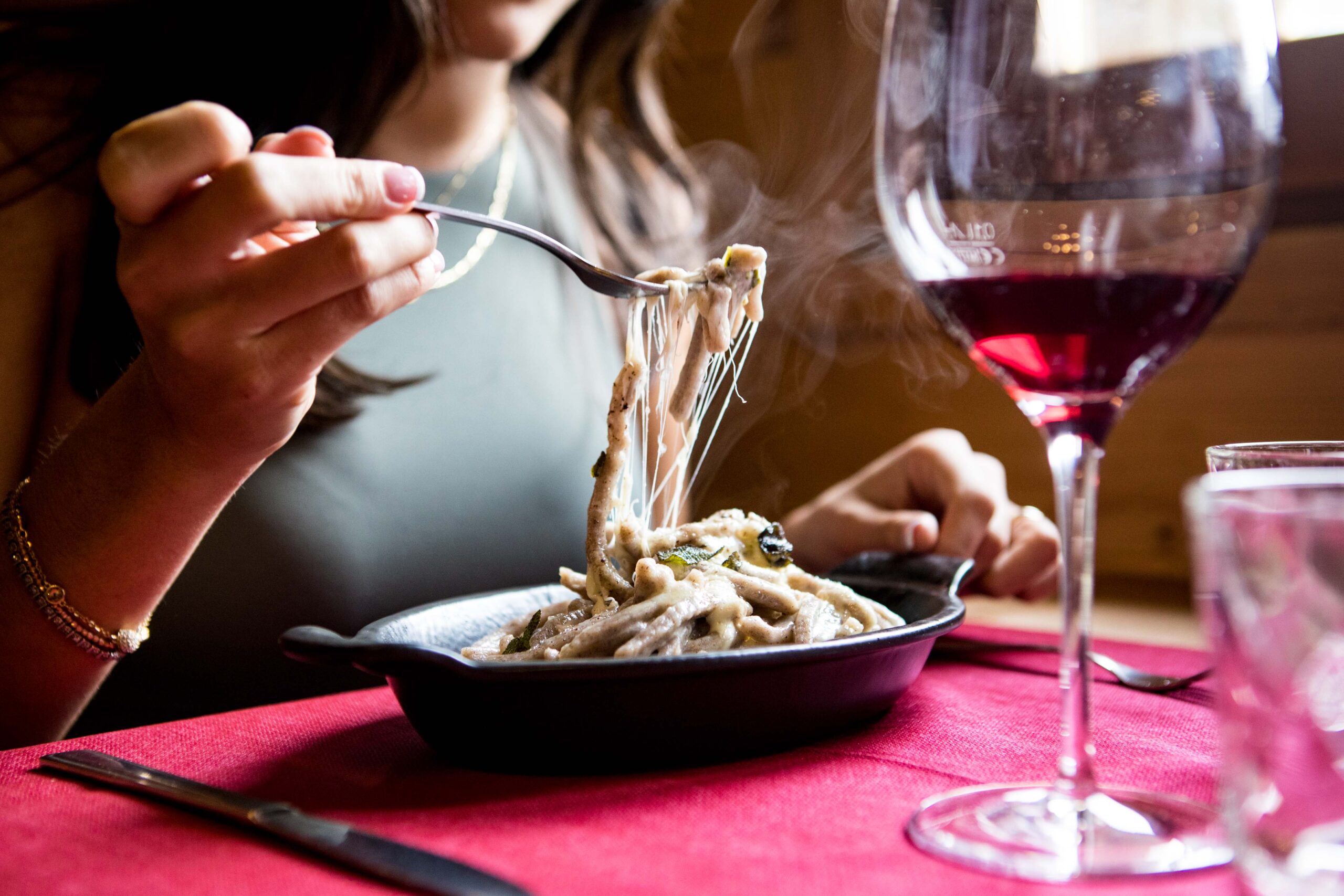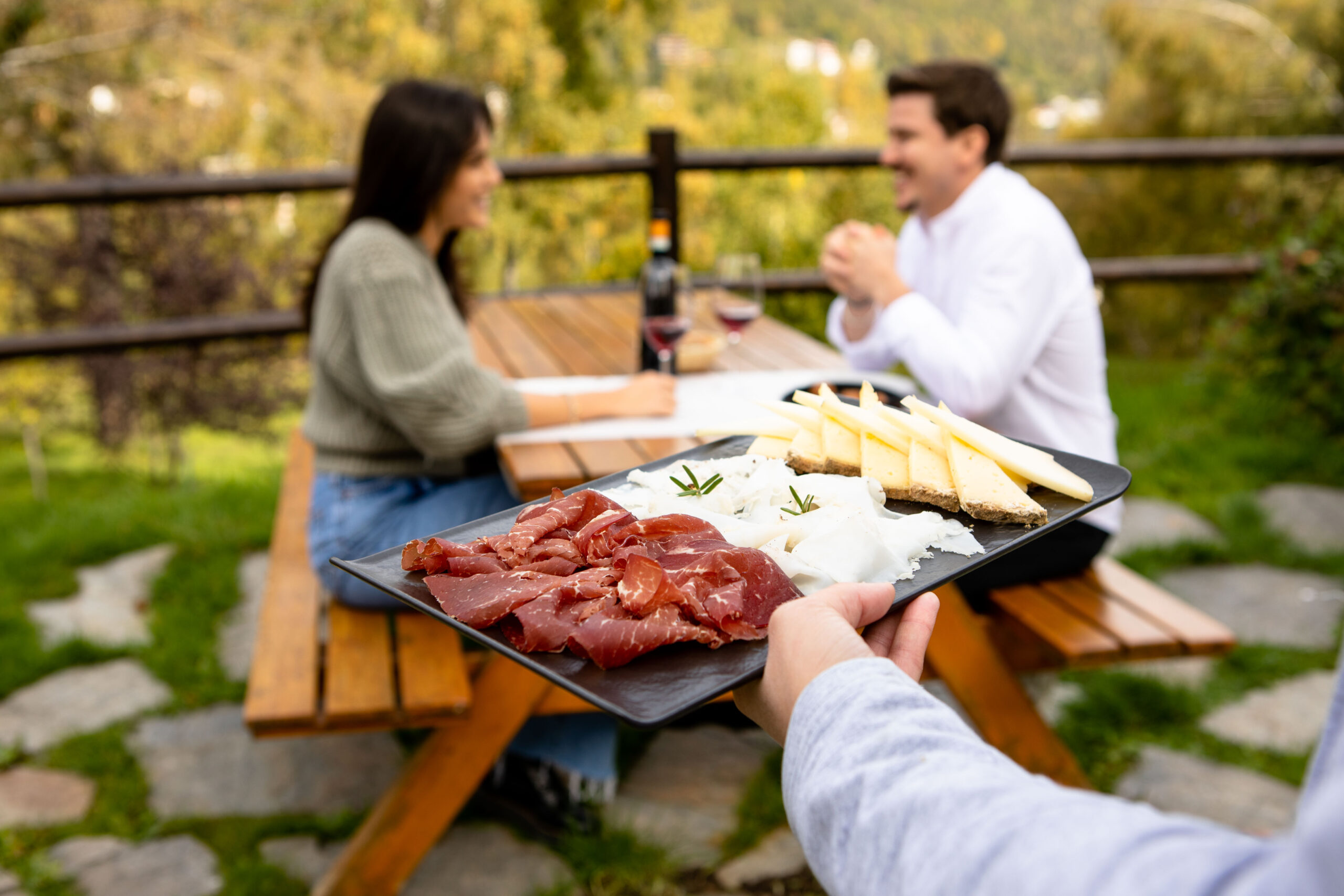 Beverages
The bond between Valtellina and winemaking started in ancient times and has shaped the landscape uniquely. Over 2,500 kilometres of dry-stone walls run along Valtellina's valley, creating 850 hectares of vineyards and Italy's largest terraced area: 50 kilometres from Morbegno to Tirano. Nebbiolo delle Alpi, which locals call Chiavennasca, is the mother of Valtellina's most elegant wines: Rosso di Valtellina DOC, Valtellina Superiore DOCG, and Sforzato di Valtellina DOCG. Rosso di Valtellina is ideal for first and second courses. Valtellina Superiore DOCG has 5 subzones – Maroggia, Sassella, Grumello, Inferno and Valgella – each of which gives a different personality to the wine. This wine is produced in the sunniest areas and aged for at least 12 months in oak barrels. It goes perfectly with Valtellina's important dishes like pizzoccheri. Sforzato di Valtellina is the first Italian dry red raisin wine to be awarded the DOCG designation. It's a full-bodied wine, made through a careful selection of every grape, dried until it loses 40% of its weight. Then, it's left to age for at least 20 months to reach a minimum alcohol content of 14%. Every trip to Valtellina must include a visit to a winery and vineyard to discover what's behind a good glass of local wine, tasted where it come to life.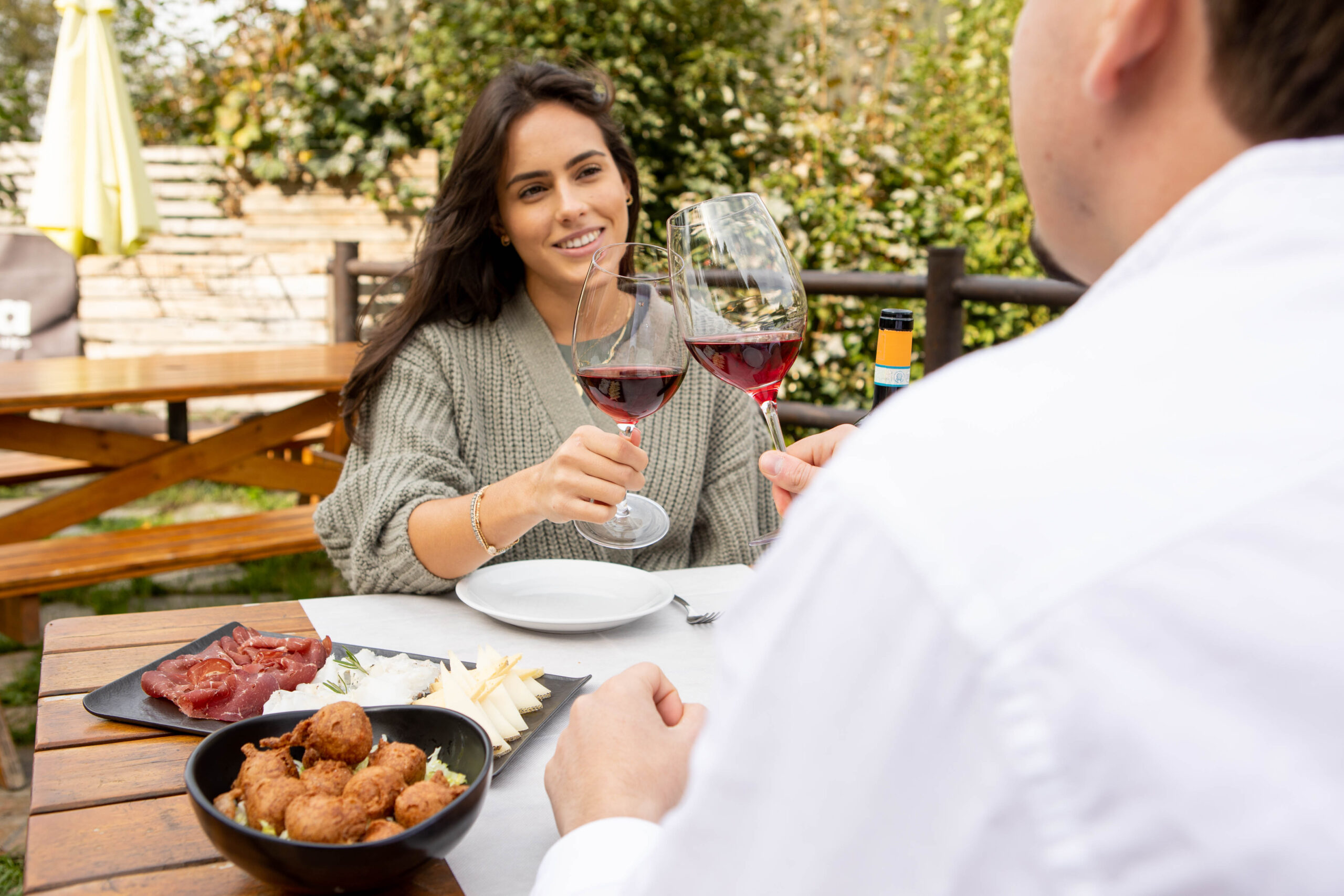 Main sights
Ski
Aprica embrace a vast ski area with all kinds of ski slopes, from blue to black, to satisfy everyone, from beginners to the most proficient of skiers. The Campetti area is located in the heart of the town and is a veritable paradise for children. Then, we climb up to 2300m, to Valletta, the heart of Palabione. More proficient skiers can put themselves to the test on red and black slopes, like the Magnolta "Pistone", while those looking to enjoy the panorama without too much sweat, will enjoy the Baradello Superpanoramica, over 6 km long. Slopes for all tastes, fun for grown-ups and children and, of course, chalets and solariums for relaxing after skiing.
Road bike
Aprica and the Valtellina valley are full of things to do for bike enthusiasts. Paths of different levels of difficulty, in terms of length and elevation difference, give you the chance to visit towns and historic hamlets, full of unexpected surprises. The Sentiero Valtellina runs alongside the Adda River and leads through orchards, with breathtaking views whatever the season. For fitter bikers, the local area is home to some of the "great ascents" made famous by the Giro d'Italia. Mortirolo, Gavia, Stelvio and S. Cristina as well as the Aprica pass.
Mountain bike
Aprica offers MTB enthusiasts a land rich in paths, dirt roads and military tracks that lead past characteristic lodges and alpine pastures, connecting stop-offs and refuges in the upper mountains, so that bike excursionists can enjoy a much needed rest. There are routes for families or more technical challenges for expert bikers, also ideal for enjoying a more comfortable e-bike experience
Hiking and walks
In Aprica over 200 kilometres of mountain paths and itineraries await you, enjoyable in full safety as you admire truly breathtaking views. There are simple paths, suitable for everyone, which lead through fascinating areas of naturalistic interest, like the Pian di Gembro Nature Reserve or the Valli di Sant'Antonio Nature Reserve, with the Brandet and Campovecchio Valleys.
The Alpine Nature Wildlife Sanctuary
The Aprica Alpine Nature Wildlife Sanctuary, created and directed by the biologist and naturalist Bernardo Pedroni, is a vast area of over 25 hectares, with an educational and naturalistic itinerary. Here you will have the chance to discover nature and observe some animal and plant species typical of the Orobie Valtellinesi Park.