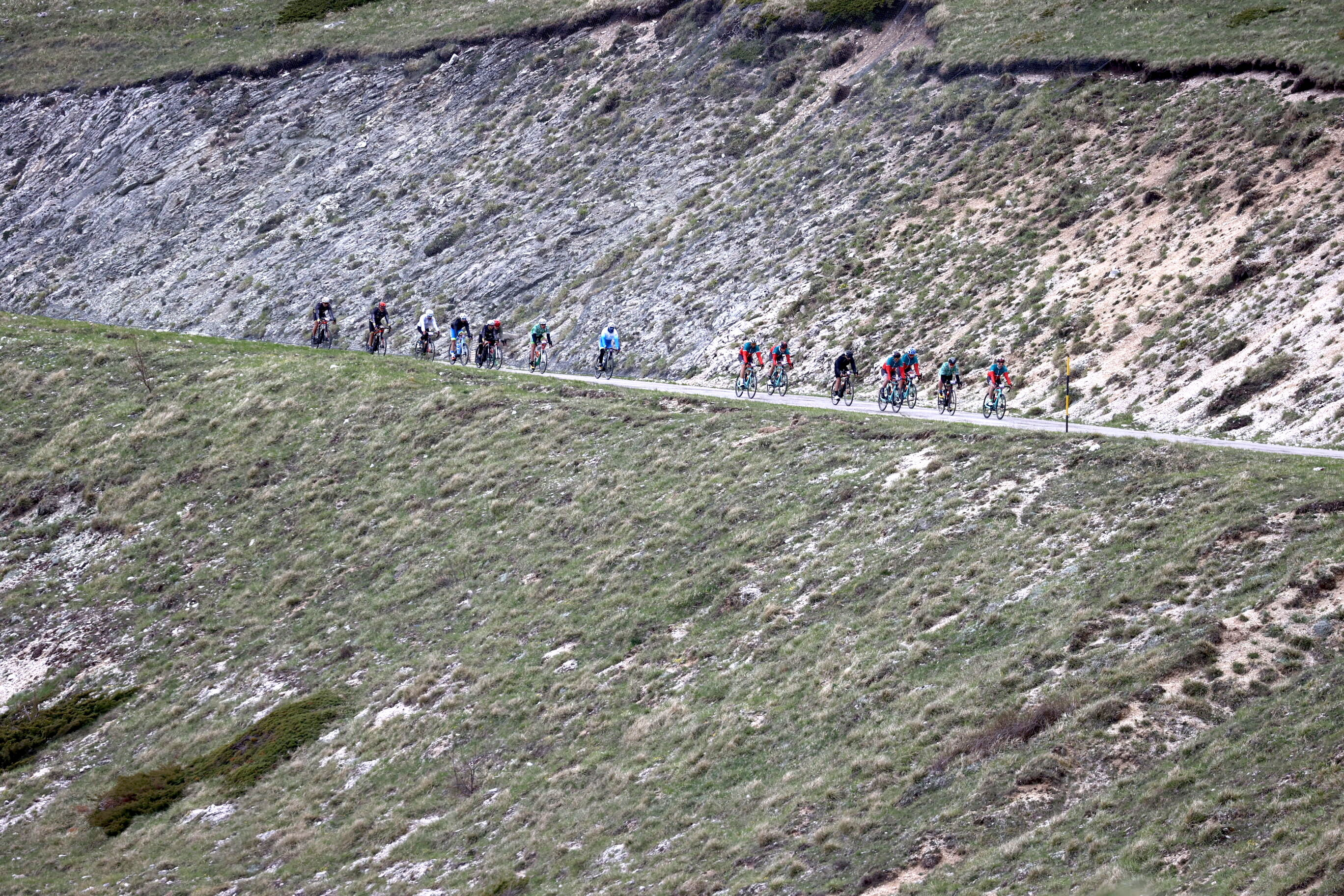 There are days when cycling is no longer just a sport. On the one hand, cycling becomes a sin to be endured, whether because of the route or because of adverse weather conditions. On the other, it becomes a symbol of things that are bigger than oneself. And so today, on stage 6 of the Giro-E 2021, the 50 participants were able to experience Great Cycling, albeit dampened by the presence of motors installed on the bike frames, which alleviated their suffering.
From Castelsantangelo sul Nera to Ascoli Piceno. First four-star stage of this 2021 edition. Apennine route, all inland: 82.4 kilometres for 2100 metres of positive elevation gain. First real uphill finish, because the one in Sestola flattened out just before the finish line; this one, instead, is sharp. A day of real cycling, hard, and for this reason, beautiful.
Start in Castelsantangelo, immediately uphill. 10 kilometres, second category. Very beautiful scenery. Arrival at Forca di Gualdo after 10.4 kilometres at 7.4% with peaks of 12%. Then a slight descent, very technical, into the Val d'Orcia plain. Then the second climb of third category, much shorter than the previous one, with the arrival at Forca di Presta.
Descent, again. Long, tough. A monotonous stretch towards Ascoli Piceno and here, once through the city, the last climb, the most beautiful of the day: 15 and a half kilometres towards the finish in San Giacomo. At the start, with a view over the city of Ascoli. The last four kilometres to the finish line are very demanding. A route all hairpin bends, a small Stelvio. An average gradient of 6.1 percent with peaks of 10 percent in the last stretch. Beautiful. Real cycling. Adverse weather conditions: rain at Forca di Presta and bitter cold.
But today was one of those days in which sport was not just sport. The Giro d'Italia as well as its "rib", the Giro-E, passed through the Crater, the area hit by the violent earthquake of 2016-2017 that destroyed and raped this magnificent land. And so sport, and in particular this Giro 104, the Giro of Recovery, also becomes the Giro of Reconstruction.  Because after almost five years things, it seems, are finally moving. It was intense for the electric cyclists to pass through the torn landscape of Castelsantangelo, Castelluccio di Norcia and Arquata del Tronto, which are still waiting to rise again and present themselves in their disfigured beauty.
The characters of the day are two. Two brothers from Ascoli Piceno, who rode with the CDI-Fly Cycling Team. Both are cyclists. Davide Ceci is an Italian pistard, who has won four Italian track speed team championships, as well as three Italian youth championships. His older brother Francesco Ceci is an active Italian pistard. He has achieved 35 victories on the track, including 25 Italian Championships in the disciplines of team speed, sprint, keirin and kilometre; he has taken part in several six-day races and seven track world championships.
"We are true Ascolans, so it's a joy to take part in our home stage," says Davide. "The climb, and today there is a lot of it, is not really our bread and butter, because we are pure sprinters, we race on the track, but we could not miss it. It's nice to see the Giro and racing bicycles in this area, which has been devastated by the earthquake. Cycling is at home in Ascoli, but this time it's something that gives us confidence. Seeing the Giro in what we call the Crater is an emotion and a message of hope. It's time to start again".
THE JERSEYS
Orange Jersey – Team leading the General Classification– ENIT – Agenzia Nazionale del Turismo
Purple Jersey – Team leading the Sprint Classification– Emika-E Powers
Green Jersey-Ride Green – Team leading the Special Trial Classification– Emika-E Powers
Red Jersey – Team leading the Regularity Classification– Valsir
Yellow Jersey – Team leading the Master Classification– ENIT Agenzia Nazionale del Turismo
White Jersey – Team leading the Young Classification – RCS Sport