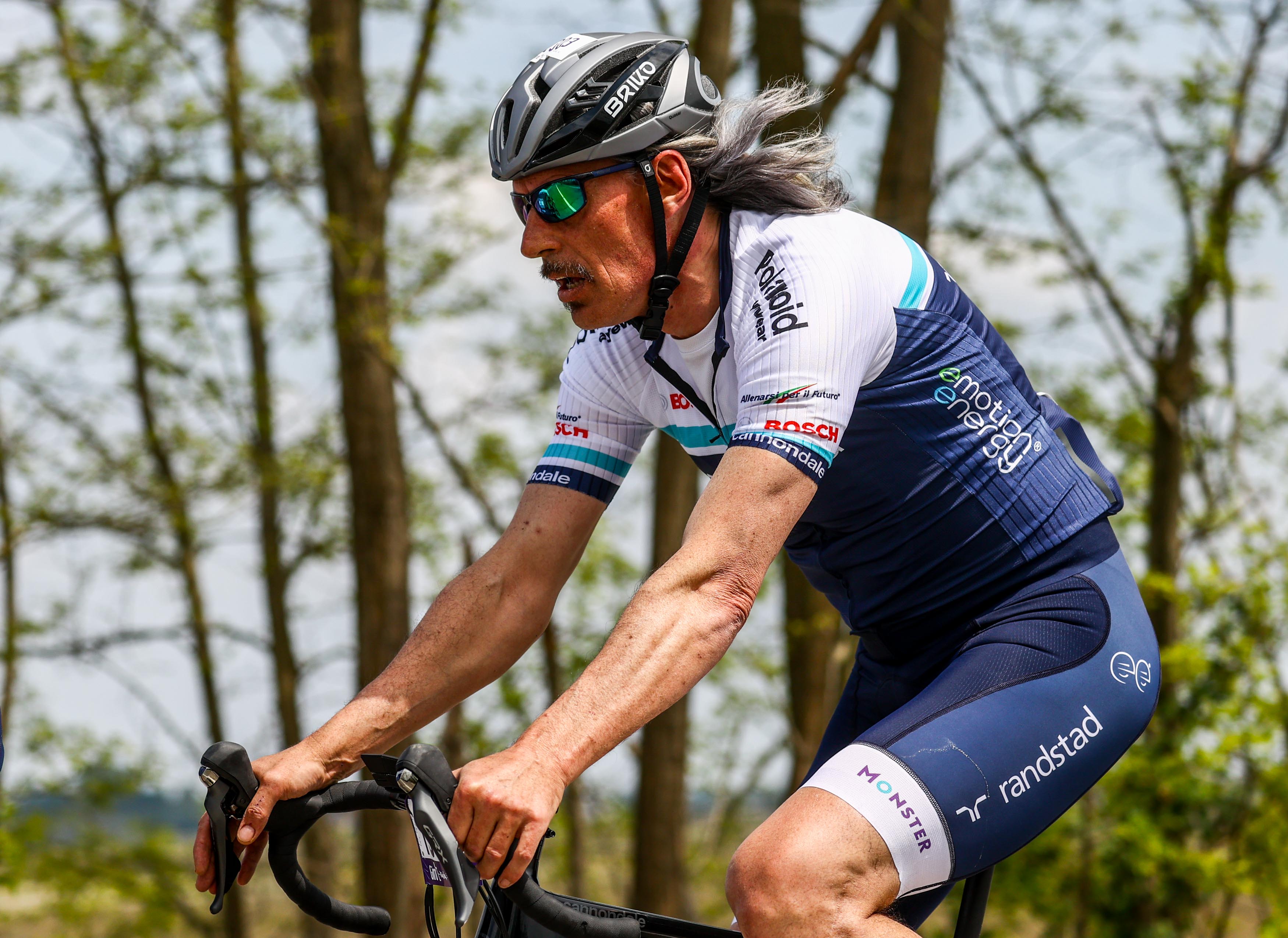 The scenery was beautiful: lots of rice fields, endless rice fields. Giro-E stage number 2, flat calm. 62 kilometres, 50 metres of positive elevation gain. Just one star on the commitment scale. But beautiful, as always when it comes to cycling, because cycling is about being together. Also because there is little or no engine action on the flat, you have to work hard with your legs: at 25 kilometres per hour the engine stops and it's up to the muscles.
Giro-E's man of the day is Moreno Torricelli, born in 1970, a former Juventus full-back, with whom he won three championships, two Italian Cups and two Super Cups, as well as a UEFA and a Champions League. Today, he is doing the feat by bike, participating with the Randstad eCycling team.
What is your relationship with the bike?
"I live in the Val d'Aosta, I use a mountain bike. I like riding off-road more than on asphalt. I do my 20-25 kilometres".
Once a month, a week, a day?
A month. A very quiet activity.
Are you one of those sportspeople who, once they have finished competing, give it up completely?
Yes. My knees are pretty worn out: whatever I do, I suffer for a week. I limit myself to charity matches.
Do you like the Giro d'Italia?
Very much. I love the hard stages, the mountain stages, the ones that make you fall in love with the bike. Zoncolan will be a mega stage this year. I like seeing the great champions on the big climbs.
So why did you choose a flat stage? Where, moreover, it is harder than uphill?
Because I didn't know that was the case!
How did it go?
Fine. Just a little sore in the butt due to lack of habit.
The Randstad team, with which you are competing in today's stage, has a great project: "Training for the future". The aim is to guide young people towards their future through the metaphor of sport: passion, commitment, responsibility, and training are the main values conveyed to students by Randstad testimonials. Is sport still able to transmit its values to young people today?
Yes. I grew up with football, for me it was a school of life: it keeps you company, you grow up with friends sharing the values of sport, winning but also losing. That's a great lesson from sport.
Since you stopped playing, has football improved or deteriorated?
It is still a beautiful sport. It has changed as the world has changed, but the values are still the same and the great players are still great.