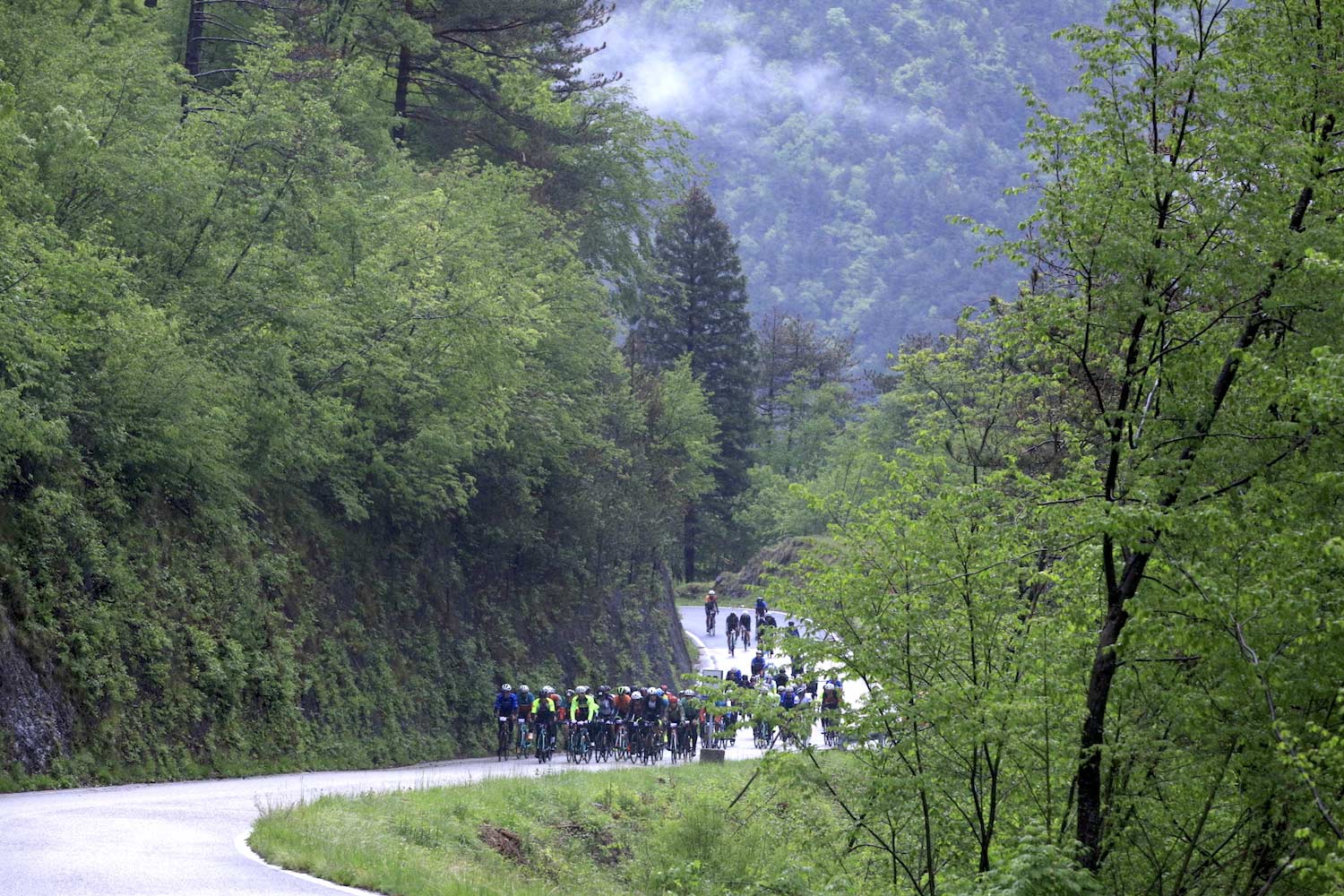 Whichever way you look at it, it's scary. Or at least it's really hard. Which is the same for a normal cyclist.
Today is Zoncolan day. It is the sole and absolute protagonist of stage number 14. It is true, the electric cyclists have climbed it from the less murderous side (that of Sutrio), however 14.1 kilometres in length, average gradient 8.5%, peaks of 27. In the last three kilometres the average gradient is over 13%. The road climbs the slope with few bends and gradients often over 20. The last kilometre is mostly around 18% and in some sections, both in the short hairpin bends and in the last portion, there are gradients of over 25% with peaks of 27%. The last 50 metres are slightly uphill: a finisseur's finish.
The last two and a half kilometres are tremendous (an average gradient of 13% and peaks of over 20%), and at the Giro d'Italia they will make real selection. The electric cyclists are much more relaxed, yet today is probably the hardest stage of the entire Giro-E 2021.
On the day of Zoncolan, cycling's sacred mountain, the electric Giro started from Maniago, already on the Giro route, reducing the 205 kilometres of the pro stage to the more humane 94, but with a cruel positive elevation gain of 2,700 metres nonetheless. The thousand-year history of Maniago, a small town in western Friuli, a crossroads between the Magredi meadows and the Friulian Dolomites, has been linked to ironworking since the mid-fifteenth century: generations of blacksmiths and cutlers have forged so many blades with water and fire that it has become the "City of the Knife". A must-see, therefore, is the Museo dell'Arte Fabbrile e delle Coltellerie (Museum of Manufacturing Art and Cutlery), where you can discover the origins and evolution of cutlery production. The Maniago area is particularly suited to being discovered by bicycle. The cycle network has developed a great deal, both in relation to the structures of the FVG3 cycle route (Pedemontana and Collio) and in internal connections. From the pleasures of cycling to those of the table. Pitina IGP (Protected Geographical Indication) is the queen of this territory: a unique sausage made from sheep and goat meat or ungulates, which has its roots in time.
The stage was spared by the bad weather, which after having threatened the group showed some clemency: it would have made the already harsh altitude profile even harder. A gentle, almost flat start, then the Monte Rest fork, in any case a category 2, then a rough descent and, from Sutrio, the start of the interminable climb to the Zoncolan, with the finish line after 94 kilometres from the start, at an altitude of 1730 metres above sea level, thermometer five degrees above zero. A real, hard, beautiful and unforgettable five-star stage, the first of this Giro-E edition 2021.
THE JERSEYS
Orange Jersey – Team leading the General Classification– Emika – E-Powers
Purple Jersey – Team leading the Sprint Classification– Emika-E Powers
Green Jersey-Ride Green – Team leading the Special Trial Classification– Emika-E Powers
Red Jersey – Team leading the Regularity Classification– Banca Mediolanum
Yellow Jersey – Team leading the Master Classification– ENIT – Agenzia Nazionale Turismo
White Jersey – Team leading the Young Classification – Fly Cycling Team – CDI