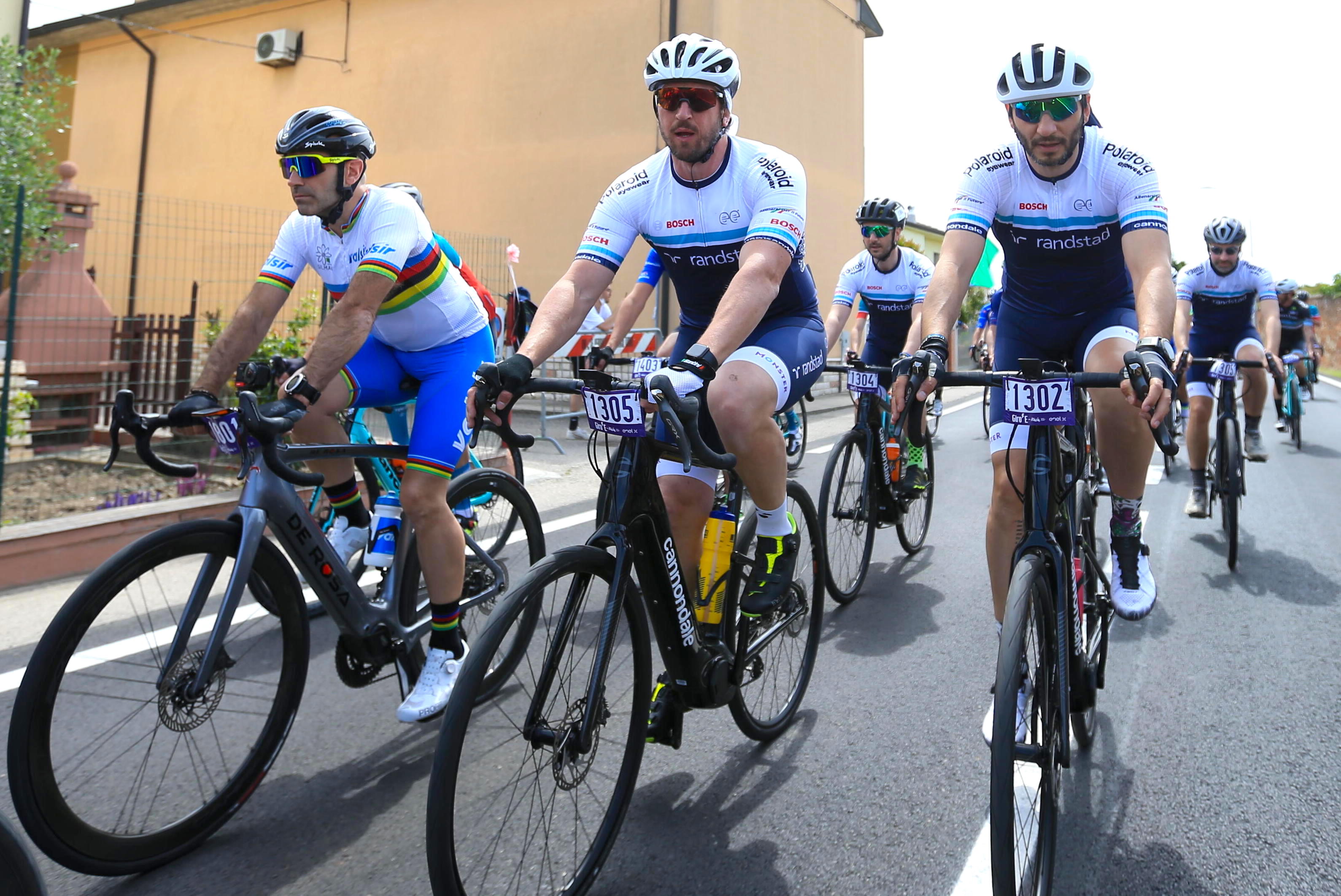 The electric cyclists were able to leave the Bignami of the Divine Comedy at home. Unlike the Giro d'Italia, the Giro-E did not start in Ravenna, where the Divine Comedy author was buried 700 years ago (the professionals passed right in front of the tomb), but in Ostiglia, for the 13th stage of the 2021 edition.
On the left bank of that "damned inconstant and capricious river" (copyright Gianni Brera) that is "Father Po", Ostiglia has distant traditions. The earliest evidence dates back to the Mesolithic period, although it is the Roman era that characterises it: with its port on the Po River, it was the starting point for the Via Claudia Augusta, which connected the territories of the Empire between the Po Valley and the Danube.
Going back in time, it is worth visiting the Palazzina Mondadori, in Art Nouveau style, home to Arnoldo Mondadori's first printing house and now the Arnoldo Mondadori Fund. A bicycle-friendly territory, the Po, which here boasts Isola Boschina, between Ostiglia and Revere, covers 37 hectares and has been a nature reserve since the 1980s, accessible only on foot and by bicycle. It is connected to the other protected areas of the Mantuan Oltrepò Park System by the Ciclabile dei Parchi (cycle route of the Parks); it also lies along the Eurovelo EV8 itinerary and the Mantua Province 2s cycle route.
Having said that, there is not much more to say about today's stage. Arrival in Verona, after 76 kilometres and a measly 50 metres of elevation gain. A little bit of plain, a breath for the electric cyclists before His Majesty the Zoncolan, which awaits them, as they say, at the gate.
The character of the day is Mauro Bergamasco, born in Padua in 1979, former rugby player of the national team (106 appearances between 1998 and 2015), winner of two championships with Benetton Treviso and two French championships with Stade Français. He rode in today's stage with the Randstad team, alongside his friend Gian Maria Gabbiani, soul of the team.
At one metre eighty-five centimetres in height and weighing one hundred kilos, Bergamasco doesn't exactly have the physique of a cyclist: certainly not a grimpeur. But he is, as he says, passionate about cycling. "It's a great means of transport. I'm using it a lot these days, because with the bike I'm not only doing physical activity, but also emptying my mind, allowing me to decompress from work and the rest. My rides are 50-60 kilometres at the most. I like cycling, it's a team sport like rugby. The team always wins, even in life: if you're a top player but nobody passes you the ball, you'll never score".
(in the photo, from left: Igor Astarloa, Mauro Bergamasco, Gian Maria Gabbiani)


THE JERSEYS

Orange Jersey – Team leading the General Classification– Emika – E-Powers
Purple Jersey – Team leading the Sprint Classification– Emika-E Powers
Green Jersey-Ride Green – Team leading the Special Trial Classification– Emika-E Powers
Red Jersey – Team leading the Regularity Classification– Emika – E-Powers
Yellow Jersey – Team leading the Master Classification– ENIT – Agenzia Nazionale Turismo
White Jersey – Team leading the Young Classification – Fly Cycling Team – CDI