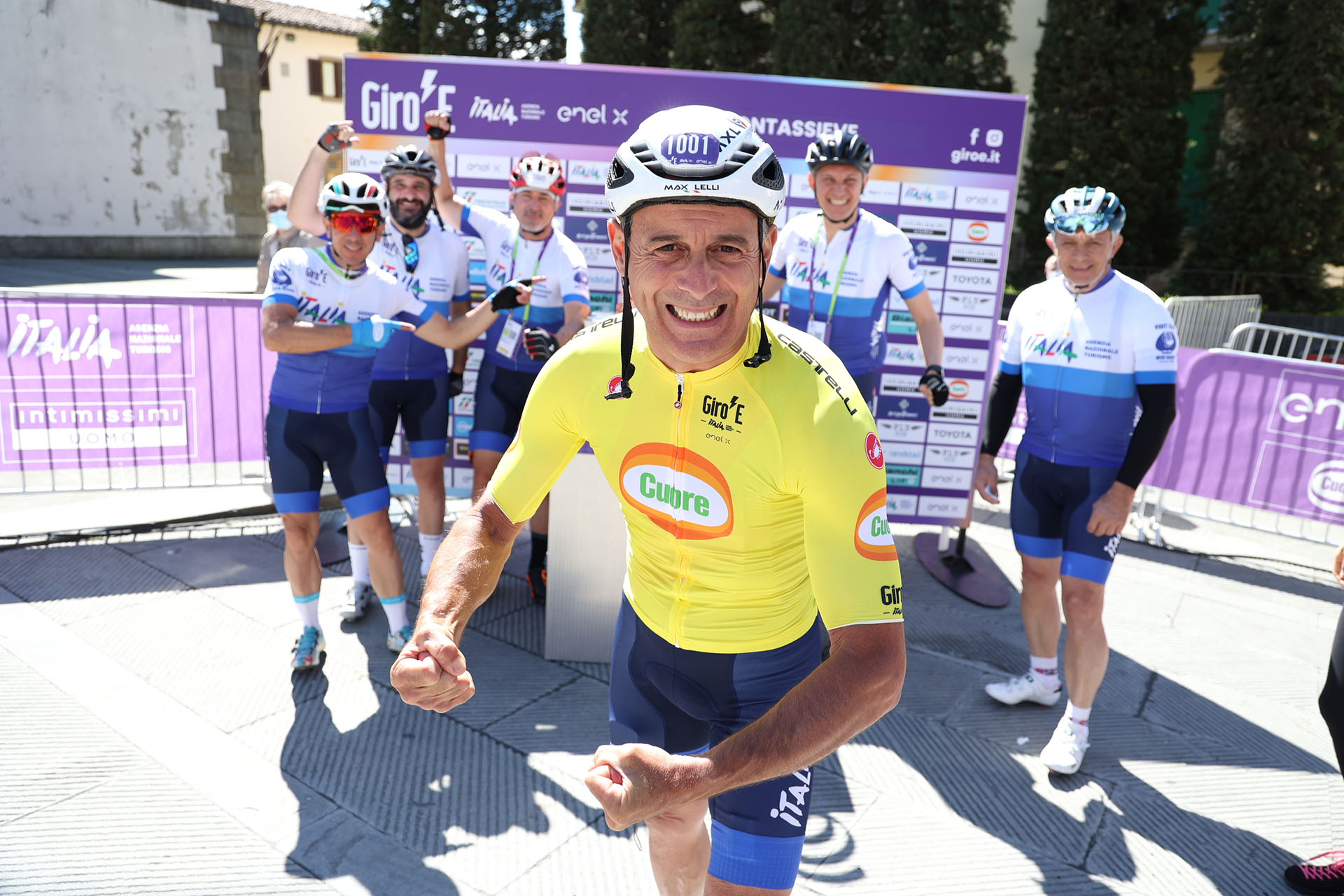 "This is all wrong". Who knows if Gino Bartali would have reacted in this way, seeing the Giro-E pedal-assisted bikes "invade" the territory of his beloved Giro, which he won three times, between 1936 and 1946. As it happens, Ginettaccio is one of today's tributes to the Pink Race. Stage number 12, in fact, passed through Ponte a Ema, the birthplace of the Righteous among Nations.
The electric Giro started a few kilometres later, already past Florence. But it didn't lose anything, because it offered its participants three of the four climbs of the day. Start from Pontassieve, therefore, already on the Giro route. The start was uphill, towards the Passo della Consuma, 18 kilometres in length, 5.7% average gradient. Then the peloton crossed the province of Florence and entered the province of Arezzo and its spectacular forests of the Casentino. Then it was back up to the Passo della Calla, with double-digit gradients, enhanced by rain mixed with hail. Next was a long descent to Santa Sofia and then the Passo del Carnaio, the last rough spot of the day, shorter in length but with gradients up to 14% steeper than the Passo della Calla. Another descent, challenging, up to five kilometres from Bagno di Romagna, where the finish line was. In short, full Apennines, 2500 metres of elevation gain, almost one hundred kilometres (96 to be precise). A tough stage, therefore beautiful, three stars all deserved. Bartali would have liked it.
Another cycling great deserves the Giro-E character of the day jersey today. He is Max Lelli, captain of the ENIT Agenzia Nazionale del Turismo team. In his third electric Giro, Lelli never complains, always smiles and works like crazy to get his teammates, who are hardly ever experienced cyclists, from start to finish. When he can, he sprints to the finish line to gain points and aim for one of the jerseys up for grabs, often managing to prevail thanks to the "engine" (his own) and his aptitude for the saddle, which has never weakened given that he still covers at least 20,000 kilometres a year, accompanying guests on cycling trips to his agriturismo in Manciano, in the province of Grosseto. "There's no flat land there, it's all up and down," he explains. Of the electric bike, which he now knows inside out, he says: "Many people think: you have a motor, you don't have to work. But that's not true, you do the effort anyway. If you want the motor to perform, you have to pedal. We go uphill at 20 kilometres per hour: if you have the engine but no legs, you don't go anywhere. When we captains make the final acceleration, we put all our strength into it, with the engine at full throttle. In a few bends on the dirt track over the last few days, I almost went into dérapage. I put 400 watts into it, and when the engine is at full throttle, when you relaunch the bike and add another 250 watts, it becomes a big thing. I'm almost as strong as when I was racing.
Twenty years ago in June, Max pulled off his greatest feat: he came third in the Giro d'Italia (behind, it should be stressed, Chioccioli and Chiappucci), winning two stage victories and the Maglia Bianca for the youth classification. Best wishes, champion.

THE JERSEYS

Orange Jersey – Team leading the General Classification– Emika – E-Powers
Purple Jersey – Team leading the Sprint Classification– Emika-E Powers
Green Jersey-Ride Green – Team leading the Special Trial Classification– Emika-E Powers
Red Jersey – Team leading the Regularity Classification– Emika – E-Powers
Yellow Jersey – Team leading the Master Classification– ENIT – Agenzia Nazionale Turismo
White Jersey – Team leading the Young Classification – Fly Cycling Team – CDI