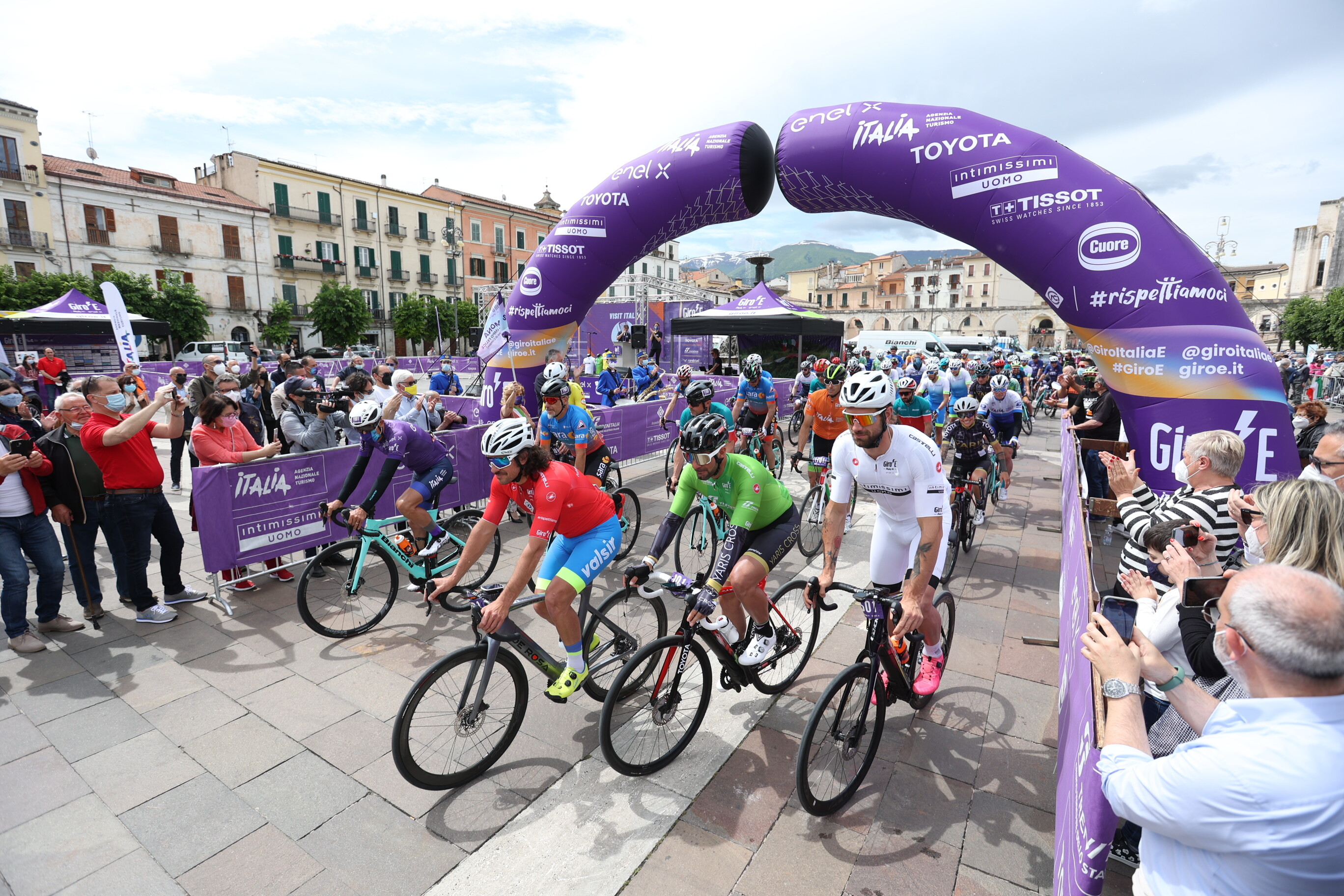 Remember the sabbath day, to keep it holy. The third commandment does not apply to cyclists: when the Grand Tours are staged, the Giro d'Italia professionals and the valiant amateurs of the Giro-E are on duty on Sundays. Today they enjoyed (there's no other word for it) the second four-star stage of this 2021 edition.
From Sulmona to Campo Felice. Almost 100 kilometres (97.5 to be precise) with 2100 metres of elevation gain. A good test of strength: physical and mental. In fact, the start was earlier than usual, at 11.05 a.m., because a long and tiring stage was planned from the start. Four hours long: it is a candidate for the longest stage of the Giro-E 2021. Only the one with the Zoncolan as its protagonist could take the sceptre away from today's stage.
Very interesting route. Three climbs, increasingly higher, and two descents. It starts with Forca Caruso, a category 3 climb, quite long but without prohibitive gradients; it continues with Ovindoli, category 2 and the Grand Prix of the Mountain; to arrive at Campo Felice, category 1, gradients up to 12% with an average of 5.8%, the last 1800 metres on dirt road, reserved for cyclists and not for the vehicles of the caravan. The first stage with really hard gradients, albeit for short stretches.
The character of the day is… Sulmona, stage town for the electric Giro, nothing less than a poem. A beautiful town in the province of L'Aquila, it is located in the heart of Abruzzo, close to the Majella National Park. For an event like the Giro-E, which makes the rediscovery of the territory one of its objectives, there could be no better place to start the climb north. Sulmona has been the site of five stage finishes for the Giro d'Italia (the first was in 1911): the Giro-E has broken the spell and made it the starting point.