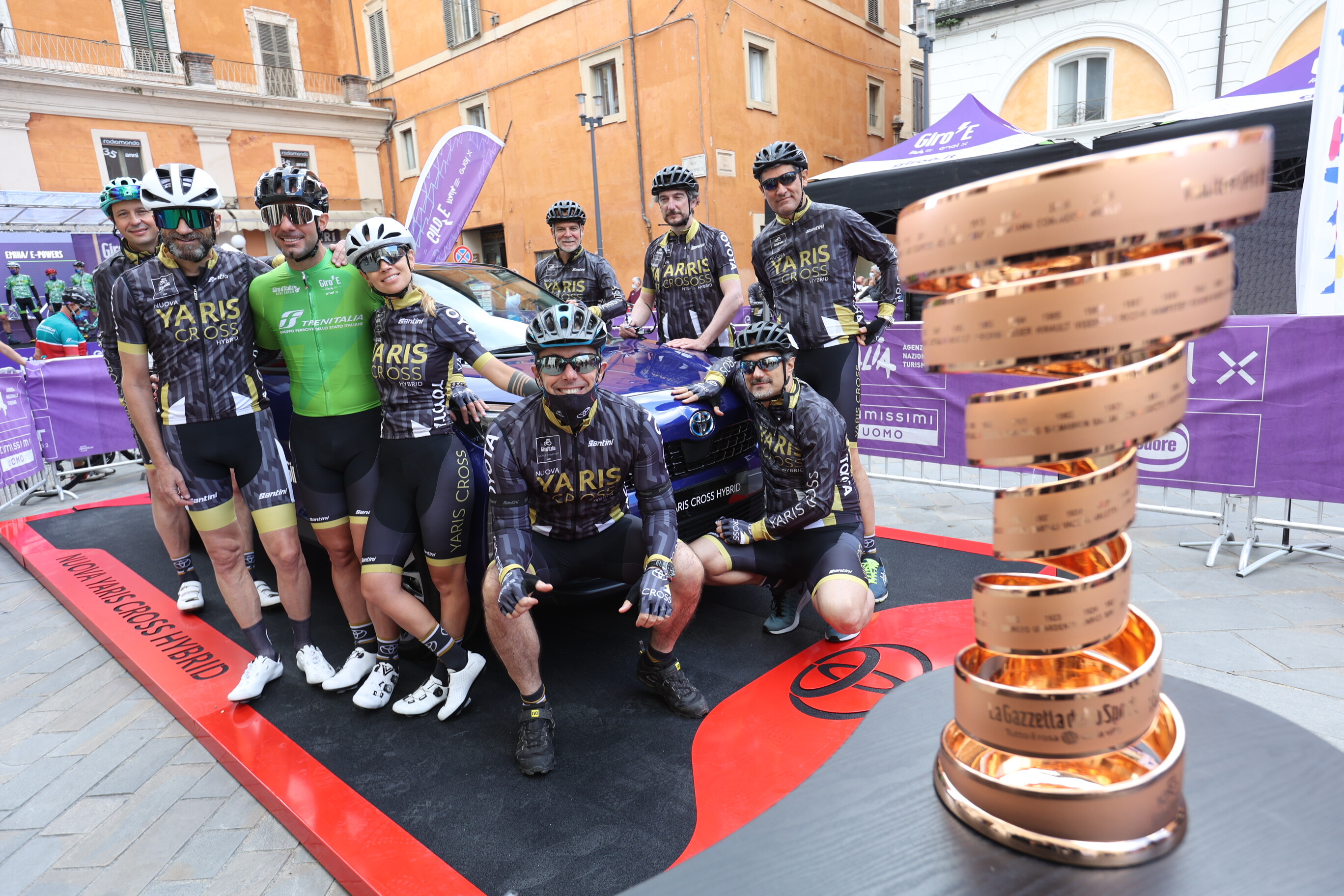 Time flies. The Giro-E starts today in Lazio. Rieti, the starting city of stage 10, is already on the Giro route, so it was an immediate immersion in the Pink Race world. The city that greeted the start of the electric cyclists has ancient origins but looks to the future. In fact, there is already a cycle path of several kilometres all around the city, immersed in a wonderful green area overlooking a beautiful landscape; it allows every tourist to discover and enjoy all the beauties of Rieti from the saddle of an electric bike.
The participants in the Giro-E did not have much time to enjoy the scenery, as both the bikes as well as the route demanded their full attention and energy.
The stage was not the toughest: 86 kilometres and 950 metres of positive elevation gain. But the altitude profile, a so-called "eat and drink", as the cyclists say, which means constantly up and down, consumes a lot of calories. The day's test is the Valico della Somma, a category 4, less than seven kilometres at five per cent. From there, the last forty kilometres downhill to the finish in Foligno. Magic of the Giro: already in Umbria.
A remarkably interesting stage from a cultural point of view. Following in the footsteps of St Francis from the entrance to Piediluco, a village of 523 inhabitants classified as one of the most beautiful boroughs in Italy, before the ascent of the Forca and the descent to Arrone. Along the Via Flaminia we approach the Fonti del Clitunno, which Giosuè Carducci fell in love with, with its early Christian temple, a Unesco heritage site. But the highlight is in Foligno. In the year that commemorates 700 years since the death of the Supreme Poet, Dante Alighieri, Foligno is preparing to celebrate, in 2022, the 550th anniversary of the publication of the first copy of the Divine Comedy, printed on 11 April 1472 by the printer Giovanni Numeister, a pupil of Gutenberg, at the home of the goldsmith Emiliano degli Orfini, which is still in the main square. The transfer to tomorrow's start, just 100 kilometres away, will allow a visit or at least a thought to a place so important to the history of literature and the Italian language.
Mention of the day goes to Team Toyota, which have given their best for the occasion. In stage 10, in fact, there were 12 Toyota standard bearers, led by the presenter of "Salite da Incubo" Patrick Martini and, for the occasion, by the fashion cyclist Elisa Scarlatta aka Cherybombom. The Toyota executives, from CEO Luigi Luca' to Alberto Santilli (Business Support Director), Mariano Autori (Marketing and Communication Director) and Christian Mohorovich (Sales Director), in pure Japanese style did not neglect their "duty" and, riding their Trek, brilliantly completed the stage.
THE JERSEYS
Orange Jersey – Team leading the General Classification– Emika – E-Powers
Purple Jersey – Team leading the Sprint Classification– Emika-E Powers
Green Jersey-Ride Green – Team leading the Special Trial Classification– Emika-E Powers
Red Jersey – Team leading the Regularity Classification– Emika – E-Powers
Yellow Jersey – Team leading the Master Classification– ENIT – Agenzia Nazionale Turismo
White Jersey – Team leading the Young Classification – Fly Cycling Team – CDI