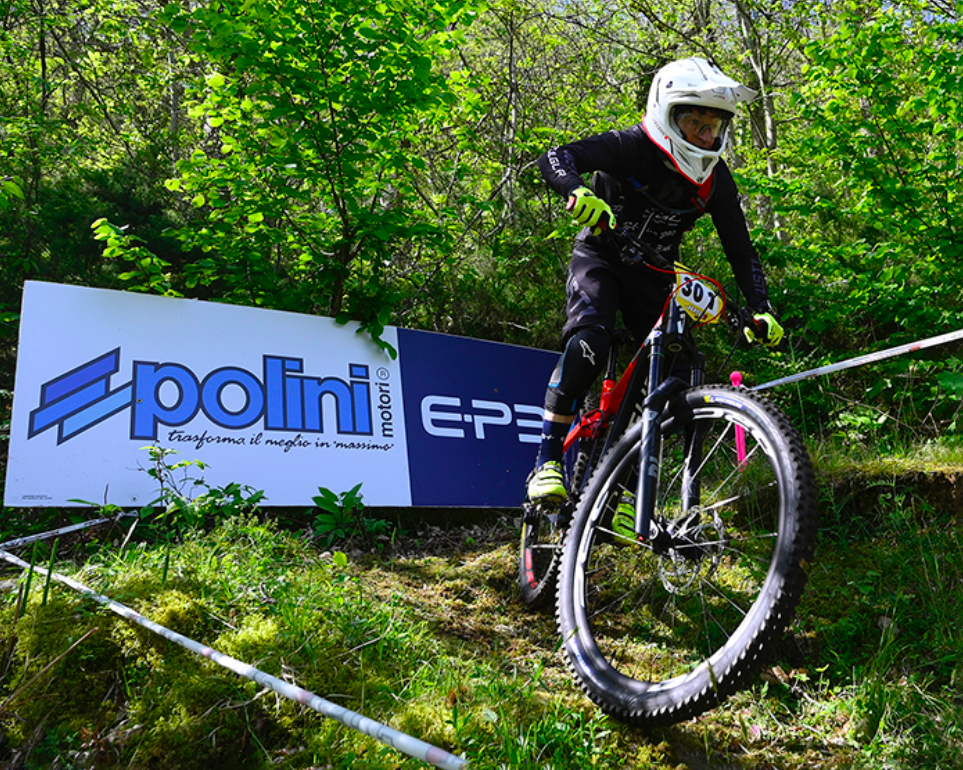 Giro-E meets Saimon Polini, 46, marketing director of Polini Motori, a family business. He does so at the opening of EICMA 2021. Today, Saimon Polini is the main figure in an interview published in the mobility supplement of the newspaper Il Foglio.
The company, based in Alzano Lombardo (Bergamo), has a long history, starting in 1945 as a bicycle manufacturer. Then, it became famous with two-stroke engine tuning kits (who doesn't remember the Polini kit for the Vespa?). In 2016, the "conversion": an electric motor to be mounted on bikes. Today it is one of the main producers of electric motors for e-bikes in Italy, along with OLI (Cesena), Askoll (Dueville, Vicenza), and FIVE (Bologna), which produces not only motors but also batteries in a ZEB, Zero Emission Building. There are no official figures, but Italian production of motors for e-bikes is expected to exceed 25,000 pieces per year – not such a small amount.
"We produce 6,000 pieces per year, which are mounted on high-end bikes, but also tandems, cargo and city bikes," explains Polini. "We could increase our production up to 8,000 motors, but right now many companies are not assembling the bicycles because of lack of components. We got inspired when we bought some e-bikes equipped with rear-hub motor. Our technical department disassembled the motors and then bought a mid-drive motor bike… That's where our research kicked off. The prototypes of the first motors were designed and produced and, in 2017, we launched the EP3 on the market – a name indicating the third version we have manufactured.
Today everyone is talking about e-bikes, but that was not the case then
"When we started the project, 90 percent of the electric market included city bikes. Our sporty and racing soul made us immediately think of the most difficult bike to equip: the racing bike. In 2017, in Verona we presented our motor mounted on a racing frame, something no one had ever done. We are proud we went our own way and didn't imitate anyone. We are also proud that today we are helping many small and medium-sized manufacturers grow, and with us they are taking an increasingly significant share of the market."
Why a mid-drive motor? Today, many city and racing e-bikes have hub-drive motors.
"The hub motor is very limited, both in terms of power – hence performance – and development. The mid-drive motor is more structured. It weighs more, but it allows you to think about the future. With the new motor we presented last May – the EP3+ – we've made great leaps at the software and hardware levels, with innovations that allows for energy saving during the rides, which makes the battery last longer with the same performance. It's important to have a powerful motor on a pedal-assist bike, because then it is never used at full power and battery power is saved. We have five drive/power modes: most people only use the first two or three. The hub motors, which have less power, are often used at full power by people who are looking for help while pedalling. That means they use up the battery sooner. What counts is the bike's power-to-weight ratio: it is not the lightest bikes that go faster, but those with more power. And when you have a motor on a bike, it is not the extra two or three kilos that matters, provided that the motor is powerful."
One of the challenges of the e-bike is range, but it is difficult to quantify
"Because there are too many variables related to the bike. You need to know how much the person weighs, how well-trained they are, what kind of tires they use, whether it's windy… When we talk about range, we never give a specific figure. There are people who did a gruesome Gran fondo, like Nove Colli, with our engines and after 200 kilometres they still had some battery power. But they were very well-trained riders. Stefano Passeri, the EWS world champion, climbed 3,000 metres elevation gain on one battery in his last race in Scotland, on a rainy and riding a mountain bike, which is heavier."
What can Made in Italy give to the e-bike world?
"Quality, design, performance. In Italy we may not have the companies with the biggest manufacturing output, but we do have companies with prominent reputation. Our engines are one hundred percent Polini: engineering, moulds, prototypes machined from solid, crankcase machining, assembly. Everything is done in-house in Bergamo. Polini motors are fully Polini.
What can be done to promote cycling in cities?
"Creating bike parking, because bicycles are easy to steal. I myself don't use it in the city, because I never know where to leave it, especially if I am riding a nice bike. If secure parking were created for bicycles, it would encourage people to use them. That would be important, because with today's bicycles, which have ever-increasing performance and range, you can really think about a daily use of the bike, even by those who live outside the city."
"Will you be returning to Giro-E, after your experience with the BFD team in 2019?
"If we find teams that want to equip their bikes with our motor, we'll be super glad and will certainly support them, since all those who did the Giro-E with our motor enjoyed it."
IN THE PHOTO Stefano Passeri, EWS-E world champion (world circuit dedicated to enduro on e-bikes) in the Vet 50+ category on a Polini motorized Fulgor.