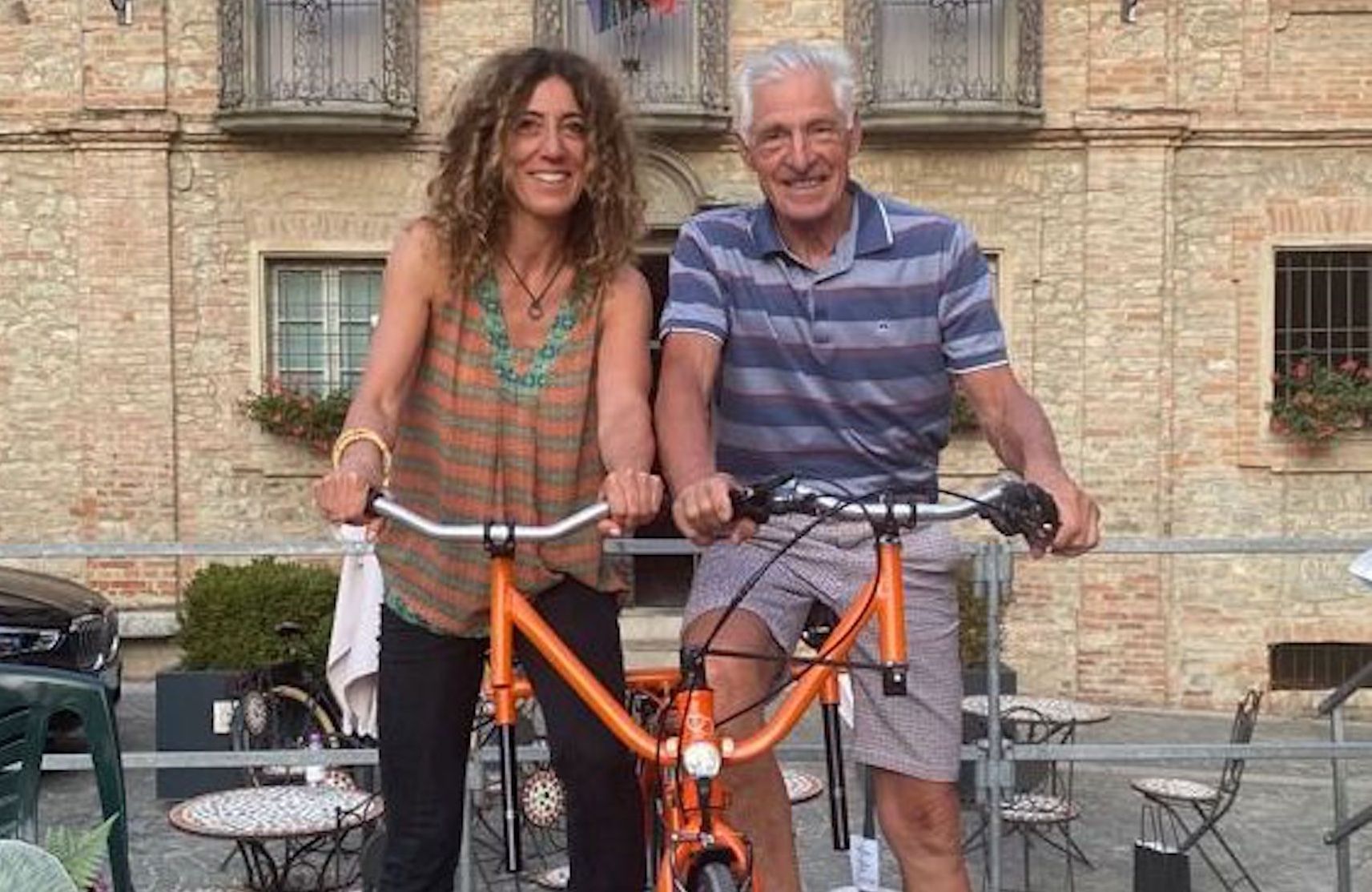 Giro-E meets Alessandra Schepisi, host of the most beautiful radio programme about cycling: A ruota libera. She is on air on Radio24 and talks about the bicycle in its many aspects: as an alternative to the routine of traffic and smog, as a journey, a business, a trend. She has just published a book, 24 bike stories, written together with Pierpaolo Romio and published by Il Sole 24 Ore.
Why the bike?
"We tell the story of cycling in all of its facets, because the cycling world is very diverse. It ranges from sport to urban mobility, from cycling tourism to innovation, creativity and technology. There are so many stories that are born around the bike. That is what I have realized in the three years of Freewheel. The bicycle is a great source of inspiration, and its world is so rich."
Isn't it strange that such an old mode of transportation can be so contemporary?
"The bicycle is more than 200 years old; it has remained largely unchanged and is a mode of transportation which, a bit like the radio, was deemed to be disappearing. Yet, it is still relevant and even seems to be a winning bet for the future, as it is something that can save our cities from traffic and pollution. This has been understood by many countries, mainly in northern Europe, where even logistics in large urban centres are now carried out by cargo bikes, some of which are so large and efficient that they can almost replace vans. At Eurobike 2021 an Italian start-up was awarded. They submitted an ingenious project starting with the name, One Less Van – a four-wheeled cargo bike that can transport goods of up to 250 kilograms. In Italy, however, we are arriving a little late compared to the rest of Europe."
Today electric energy seems to be the way to save the planet, at least as far as mobility is concerned. Do you agree?
"The e-bike has been a revolution in many respects. Starting with cycling tourism, because electric bikes allow everyone to enjoy experiences previously only accessible to a few. It's also very important in the city, where there are no more alibis like the Sette Colli in Rome: anyone can use an electric bike, even if they're not very fit. The future of cycling is electric. Back to Eurobike, e-bikes were absolutely the lion's share."
How can we get more people ride a bicycle?
"All it would take is a bit of data and better communication. Not everyone knows that the average distance travelled in the city is within a radius of 5 kilometres. The bicycle is the most efficient mode of transportation over this distance, both in terms of speed, thus saving time, and economy of use, in addition to the fact that cycling is good for health and the environment. A Spanish study showed that workers who use a bicycle for their daily home-work journeys take an average of five fewer days off work per year due to illness. Incentives from companies for bike-to-work are needed."
Any obstacles?
"The perception of poor safety on the roads. It is not enough to build cycleways, we need to rethink cities. There are some no-cost measures, such as traffic calming or pedestrianization of certain areas that would help a lot. We need to change the cultural paradigm in Italy, but we can, if we think that Amsterdam in the 1970s was a city full of traffic and invaded by cars. In addition to leveraging environmental awareness, we also need to leverage data: cycling in the city is worthwhile. And mostly, as I said, we need to rethink the city. In Copenhagen there are some areas accessible only to bicycles, so that cars have to make a very long detour to get to a place. Thus, if you hate riding, in the end you do it anyway, because it's convenient. The councillor for mobility in Valencia is an Italian. I interviewed him and he explained that they have revolutionized the mobility of the city not through cycleways but by reducing the number of running cars, because this is what changes the city look."
In your book what kind of stories do you tell?
"All kinds. We chose the most significant interviews from among those aired on the programme, to make sense of the story of a world as varied as that of the bicycle. We talk about extreme cycle travellers and e-bikes, about the frame builder Pegoretti and the cargo bike, about the bicycle product and its use. We also made up an imaginary character, a bicycle mechanic from Mantua, who introduces and links the stories together."
What kind of bicycle is on the front cover?
"A buddy bike, a tandem bike that can only be used by two people. Whereas with an ordinary tandem – with the cyclists one behind the other – you can also ride alone, with this one – where the cyclists are side by side – you cannot ride alone, you need to be two, otherwise you can't keep your balance. We liked the message. We had it specially built. We are thinking of electrifying it."
Then you can come to the Giro-E.
"Indeed."